Presenting a close up look at a pristinely well preserved and rare Pra Khun Phaen Pong Prai Kumarn, with 6 code stamps on front face, and Pra Somdej indent on rear face, with bronze wanich and sai rae tong kam golden coating. This is a master class Khun Phaen of LP Tim, which won first prize trophy during the August 2561 BE LP Tim amulet competition of the Samakom Luead Ban Kaay Luang Phu Tim amulet association.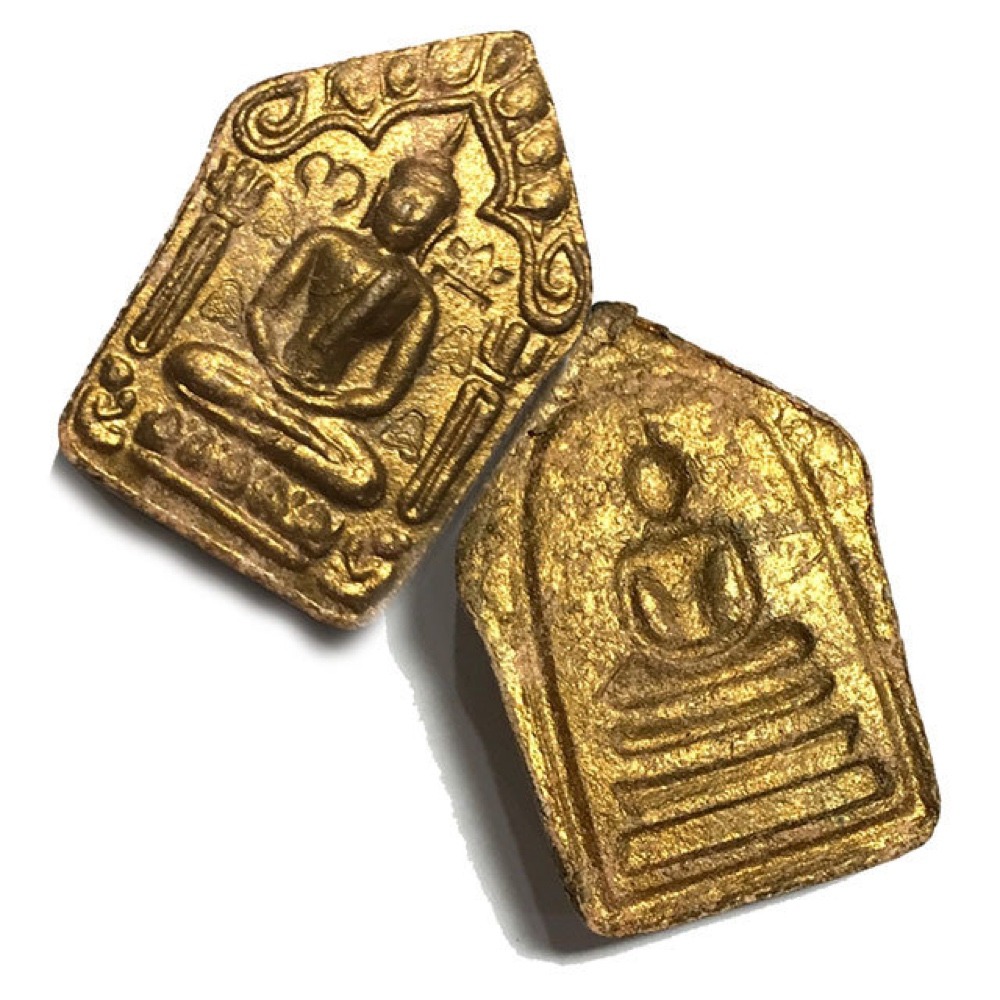 This Model is  Pra Khun Phaen pok Pim Niyom Sao Mee Sen, in Pink Prai Kumarn Powders with Sai rae Tong Kam golde  coating, 6 code stamps on front face, amd Pra Somdej coin impression indented into rear face.  this Amulet won first prize trophy during the highly esteemed Amulet competition of the Luead Ban Kaay Lp Tim Amulets association, for its impressive beauty and originality, in the category of Pra Khun Phaen with coin impressions in rear face.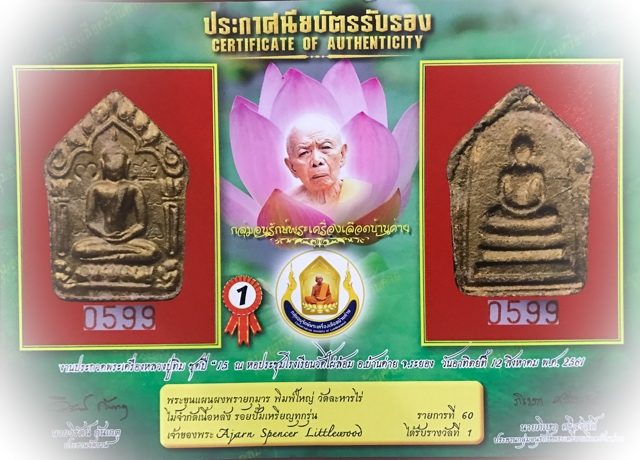 Luang Phu Tim Issarigo, was of course not only one of the most highly acclaimed and sought after Guru Monks for his amulets in his lifetime, amd posthumously, but is also the holder of the highest esteem in Thai Buddhist amulet history for Pong Prai Kumarn powders. Luang Phu Tim, is Internationally Acclaimed, for his famous Pra Khun Phaen Pong Prai Kumarn, and Look Om powder balls.

As to the classic 'Rian' type coin image amulets which have become all time favourites, and eternally, world famous classic amulets of the high end variety. His rian Jaroen Porn, and Rian Nakprok Paed Rorp are amongst the most highly sought after coin amulets of all.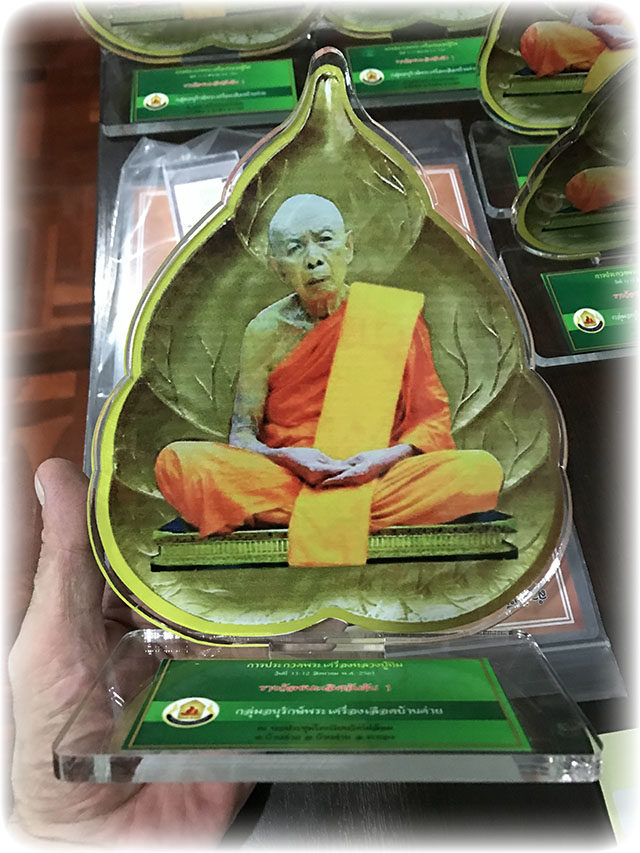 An exquisitely beautiful Pra Khun Phaen Prai Kumarn 2515 BE Pim Yai Niyom Block Tong Hlueang (Block 2) Hlang Dtok Dtaeng Niyom Nuea Chompoo with Khaw Hniaw Suk & Pong Prai Kumarn Ta Bronze Wanich Dtem Ongk, code Sala (crown code stamp), code 3, and quadruple code Pidta embossed on the front face, with the indented image of a Rian Pra Somdej Lor LP Tim embossed into the rear face as an indentation.






























































Luang Por Glan was the abbot of Wat Prayat in Ayuttaya, and the Kroo Ba Ajarn of the Great Luang Por An, who followed Luang Por Glan succeding him as abbot of Wat Prayat after his passing, and who was also a Great Master of Olden Days whose amulets were immensely famous during the Wartime Era, for their Kong Grapan Chadtri Klaew Klaad power. Luang Por An inherited and learned most of his Wicha from Luang Por Glan, who is seen as one of the top most powerful Masters of his Era.

The top ten Masters who were bestowed with the honor at the end of the 2452 BE test of magic which was performed in all grandeur, when all the most powerful masters from around the country were invited to come and have their powers and knowledge of Wicha tested. This was done to find out who were the current Grand Master Adepts in that time. These Top 10 Masters who won were the following; Luang Por Glan (Wat Prayat), Luang Phu Bun (Wat Klang Bang Gaew), Luang Phu Sukh ( Wat Pak Klong Makham Tao), Luang Phu Iam (Wat Hnang), Luang Por Ngern (Wat Bang Klan), Luang Por Ta (Wat Paniang Dtaek), Luang Por Tong (Wat Khao Gop Twa Sri), Luang Por Parn (Wat Bang Hia), Luang Phu Yim (Wat Nong Bua), and Luang Por Jon (Wat Don Ruab).

The amulets of Luang Por Glan are highly regarded for their magical powers and the many miracles which have occurred with devotees who wore his amulets. They dwell within the annals of the Pra Niyom Master-Class Category, with the more highly preferred models such as the Rian Luang Por Glan 2467 BE Monk Coin, of which a top Ongk Kroo model has been already documented in Thai News as having been auctioned for a sum of 20 Million Thai Baht (more than half a million dollars at the time).