A Documentation of the Dtamra, behind the The Miraculous Pong Solos Maha Prohm Sacred Muan Sarn Powders of LP Tim Issarigo, of Wat Laharn Rai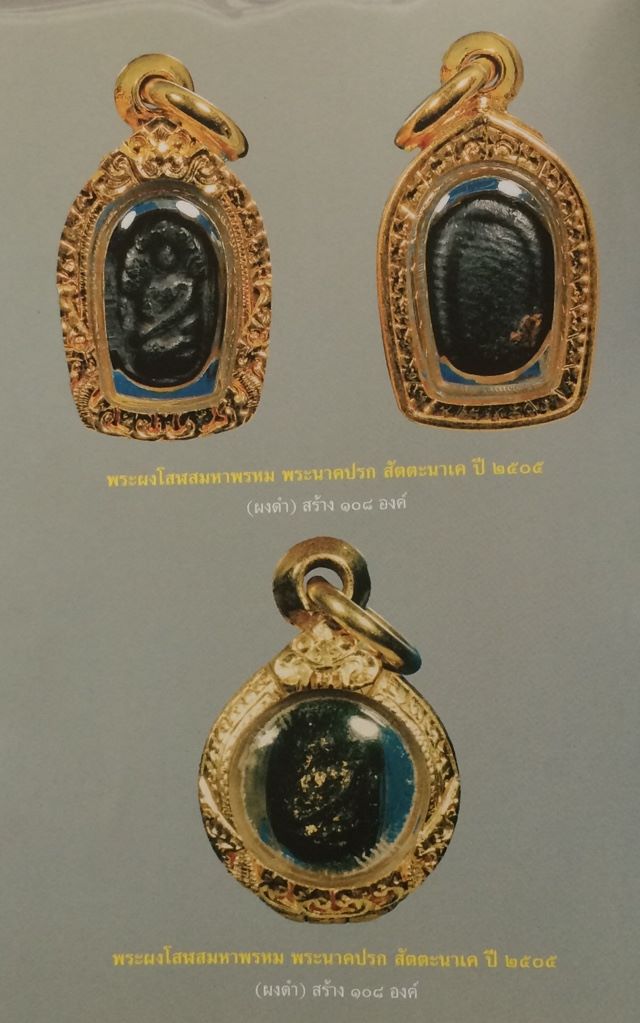 Amulets made from the legendary Nuea Pong Solos Maha Prohm Sacred Powders of Luang Phu Tim Issarigo, are renowned for their sacredness, with all models being extremely rare, and highly favored by high-end collectors of sacred amulets. The Muan Sarn Sacred Ingredients used for these immensely rare amulets, was gathered and donated to Luang Phu Tim, by Ajarn Pathom Aaj Sakorn, of the Baan Kaay Co-Operative. The powders were empowered by Luang Phu Tim, using the Wicha Solos Maha Prohm, which is an extremely complex and difficult Magical Wicha to accomplish and Master, resulting in only a few Masters over the ages having managed to successfully manifest this kind of Magical Empowerment.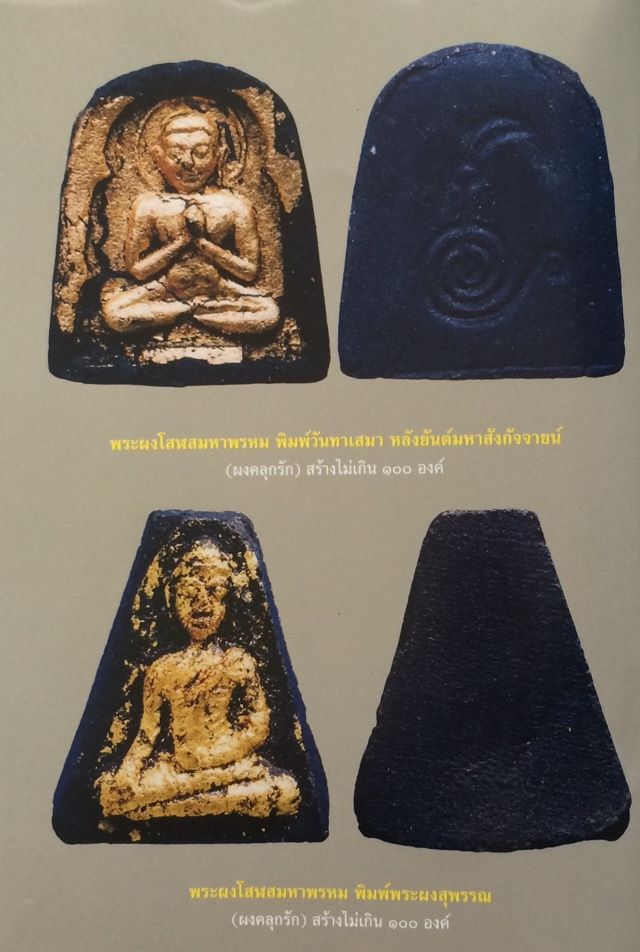 The Wicha Solos Maha Prohm is composed in part by the inscription of spells using Agkgara Tamma Khom-Lao (Khmer-Lao Magical Sanskrit), within a Sacred Geometrical Design, using the powders as 'Pong Lob', to inscribe hundreds of spells within the pile of powder, laid on a blackboard (written by erasure). The Wicha Maha Solos Maha Prohm, invokes the 16 Angelic Beings of the Heavenly Realms, the 15 Kinds of Earthbound Sacred Spirits, the 14 Deities of the Bodhala Underworlds, and the Deities of 21 Brahma Dimensions, where the Bhagava and Sudhavasa Brahmas dwell, to endow the amulets with Blessings.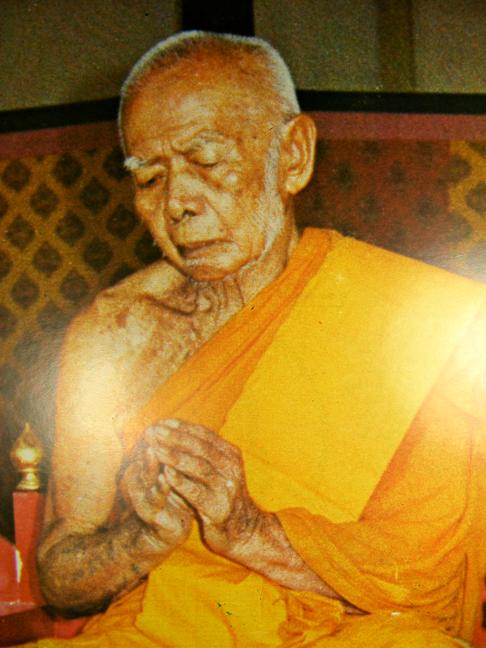 The Muan Sarn ingredients used for Pong Maha Solos Maha Prohm include;

Pong Solos Maha Prohm of Luang Phu Sri Tat of Wat Dork Gaew in Nakorn Phanom, Solos Maha Prohm Powders from Yogi Hareb (Ajarn Cheun Jantra Paetch), from India, the Legendary Pong Nava Lokuttara (9 Unworldly Powder) of the Great Luang Phu Sonti of Wat Ta Dork Gaew in Nakorn Phanom, Pong Solos Mongkol Pitsadarn of Luang Phu Hiang of Wat Aranyikawas in Chonburi, Pong Na Bad Talord Dtai Gradan of Luang Phu Bun Mee, of Wat Po Sampant (Famous for its Classic Edition blessed by LP Tim and LP To (Wat Pradoo Chimplee), Pong Radtana Mala from Ruesi Sandtajidt ('Tan Chao Prakhun Pra Ariya Kunasarn' otherwise knwn as Luang Por Seng Bpusso), of Wat Khaio Suan Kwang, in Khon Khaen.

Pong Jet Jantr Paen, and Pong Prohma Lok (Brahma World Powders) of Pra Ajarn Wang Thidtasaro, of Phu Langka, Pong Samputta Hongsa of Pra Ajarn Fan Ajaro (Sakon Nakorn), Pong Sandta Nakae (7 Naga King Head Powders), which is a powerfully prepared Yantra Powders using Numerology and Gematria found within the Kampir Wicha Trinisinghae, using Pong Lob Yantra Powder Inverted Inscriptions according to the formula of Jet Koon Jet Harn (Multiply 7 Times and dissolve 7 Times = 7 by 7 repetitions, and divisions/encryptions of the Magic Spell). This spell seals the Magic of the Ongkanakae 7 Naga Kings' powers within the Muan Sarn, through invocation of the Kata Chant 'Bot Puchong Boripadtra'.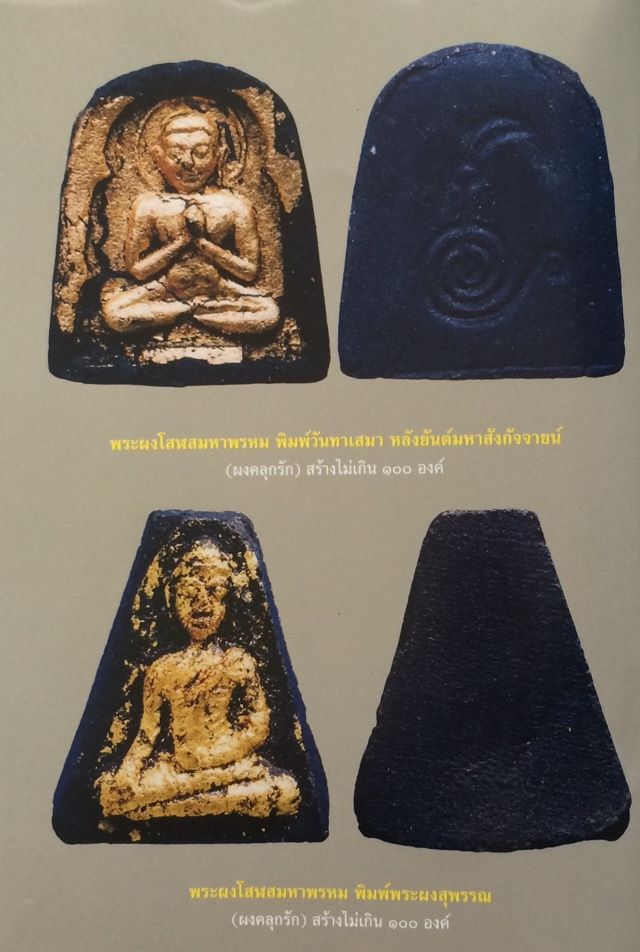 Additional ingredients included; Pong Bailan Sacred Grimoire Parchment Soot, from 108 Ancient Sorcery and Buddha-Magic Tomes in various Magical scripts such as Agkhara Khom, Mong, Pali, Sanskrit (Devanagari), and in Aksorn Tam Isan. The powders were made by burning the Grimoires in a fire, and performing recitations of the Dhamma in Buddhist Chanting. The soot is then collected and used as a sacred Powder.
Din Khuy Pu 108 Ruu Pu (sacredly empowered sand from the holes of 108 beach crabs, considered a powerful type of substance).

Earths from the tops of mountains where no foot has ever been set before, collected by Monks and Ruesi on Tudong Wilderness Wandering Practice.

Funereal and Cemetery Earths from 4 Spirit Dwelling Monastery Graveyards.

Sacred Black Rice from Ancient Kru Hiding Chambers, discovered in Buddhist Relic Stupas.

Rang Hmaa Raa Bpid Bpid Pragan (Magical Mimic Hoverfly/Ceriana wasp Earthen Nest Powders)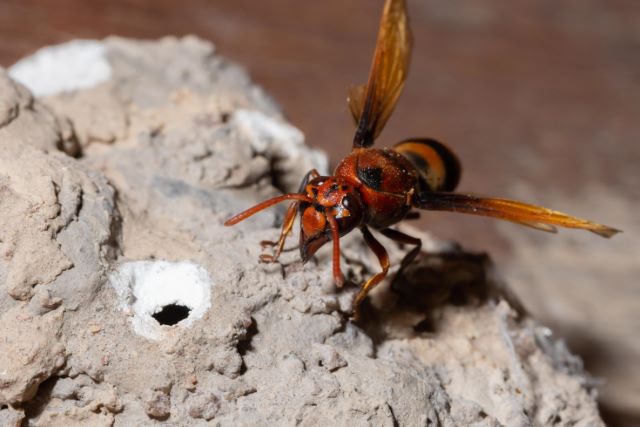 Klai Sema Paed Tidt Temple Boundary Wall Residue from 8 directional points around the temple.

Gabin Wan Bod La-Iad (108 finely ground Herbal Substances).

Pong Bpathamang, Puttakun, Ittijae, Dtrinisinghae 5 Sacred Yantra Powders, mixed with Pong Tat Tang See 4 Elements Powders, using Herbal Lacquers.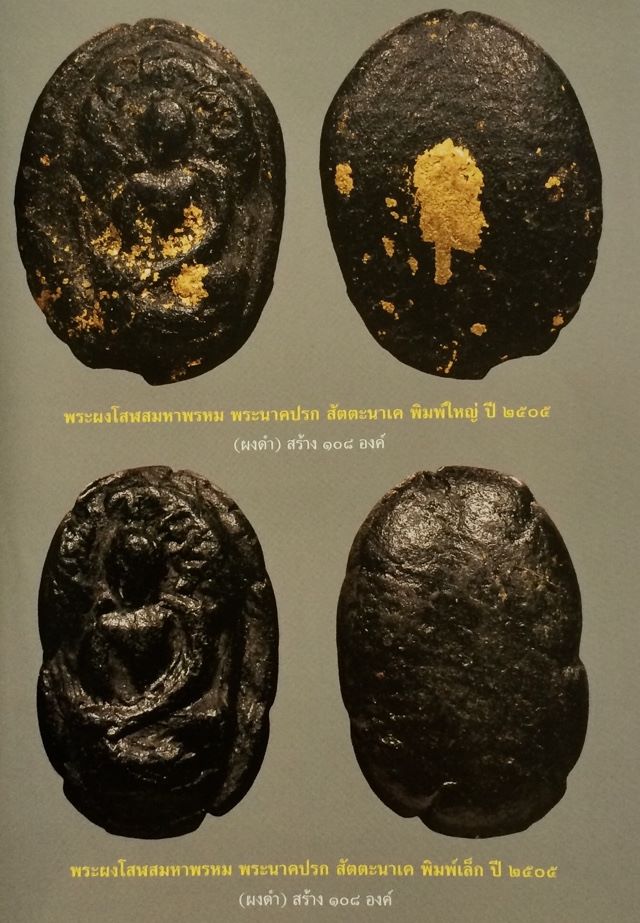 Luang Phu Tim Issarigo, of Wat Laharn Rai, was one of the Top Masters of the Twentieth Century, world famed for his powerful Sacred Powders, especially the Pra Khun Phaen Pong Prai Kumarn, Look Om Prai Kumarn, and other Pong Prai Kumarn Amulets, Takrut, Carved Images & Talismanic Charms. Recent times have seen the uncovering of more documentation about the grand pantheon of his amulets, till yet unheard of except by the older locals of Ban Kaay, and devotees of Luang Phu Tim. This has caused a grand resurgence of interest with devotees, curators, and high end Thai amulet collectors. Luang Phu Tim's amulets are extremely favord and sought after for their Metta Maha Niyom, Maha Sanaeh, and Maha Lap Maha Pokasap Magical properties.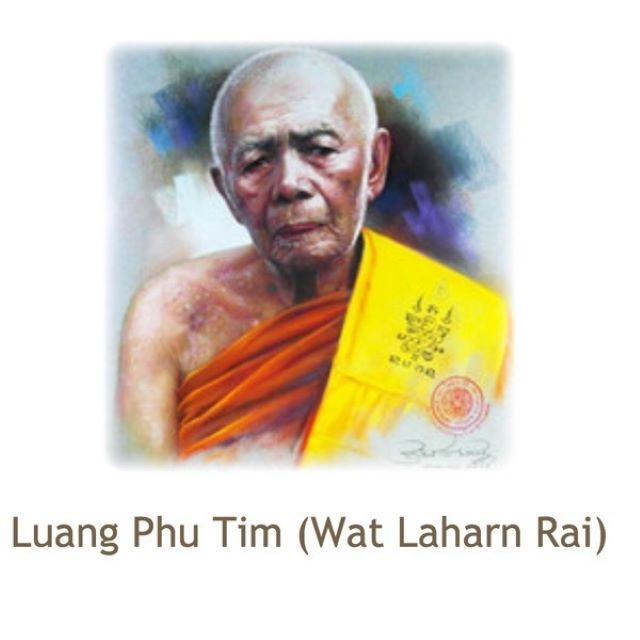 Pra Kroo Pawanapirat, or, commonly known as Luang Phor Tim Issarigo, was born on the 16th May in the year 2422 Buddhist Era, This was during the time of His Majesty King Rama 5. Luang Phor Tim was born in Ban Hua Tung Ta Budtr in Tambon Lahan, in Ban Kaay Municipality of the Province of Rayong.  LP Tim lived to the age of 96 years old, when he passed away on the 16th October in the year 2518 BE, with 69 years of ordained life behind him.
---