Pra Gleep Bua Amulet with Yant Trinisinghae Luang Phu To Wat Pradoo Chimplee
The Pra Pratan Gleep Bua Hlang Yant Trinisinghae Muan Sarn Sacred Powders amulet, was released after Buddha Abhiseka Blessing Ceremony at Wat Pradoo Chimplee in the year 2521 BE, blessed by the Great Luang Phu To who presided over the Grand Blessing Ceremony. This edition recieved 3 months of immersion in Holy Prayer Water with blessings from Luang Phu To throughout the whole Trimester. This model is rare for being in the much rarer Pong Gesorn Gae ANam Man oily pollens sacred clay.
The amulet was released in two 'Pim' (versions); Pim Yai (large, 22,875 amulets made), and Pim Lek (small, 20,805 amulets made). This amulet is in perfect condition, without any flaws or wear and tear, making it very eligible for show in competition.


This amulet is considered to be one of the more easily reachable (affordable) amulets of the Pantheon of Famous Classics, and is very popular amulet with middle and upper middle-class devotees of Luang Phu To, who seek an authentically blessed amulet of esteem and respectable value from this master, but that won't necessarily cost them the deeds to their house to be able to afford.  The Sacred Yant Trinisinghae is Embossed on the rear face of the Amulet for Metta Mahaniyom and Maha Lap Blessings.
The amulet is a Pim Yai large version measuring 3.5 x 2.5 Cm,, and is in pristine condition. The Muan Sarn Sacred Powders are made from Puttakun Yantra Powders of Luang Phu To, with Gesorn Pollens and Incenses. The powerful magic and spellcasting abilities of Luang Phu To are of course one of the major influential factors as to why his amulets have become such priceless Masterpieces, and his special Muan Sarn Sacred Powders are another highly influential aspect of their popularity and fame. The Yant Trinisinghae was often inscribed on Yantra foils for devotees who would bring a foil with them and Luang Phu would inscribe it. The devotees would then take the foil home for Bucha, or roll it into a Takrut to wear as an amulet.
This Yantra was first used on the rear face of an official amulet edition, with the first edition Rian Run Raek Guru Monk Coins. The Yant Trinisinghae is not only powerful for Maha Lap and Serm Duang (improve fate and destiny), but also for being highly effective against Black Magick, Ghosts and Demons.
Luang Phu To is said to have been able to grab the Sincana cord which monks use to attach to amulets in blessing ceremonies, and sense immediately which monks along the line of the Sincana cords had psychic powers, and which ones didn't. Luang Phu To Wat Pradoo Chimplee performing Nang Prok Meditation for Empowerment of Amulets
Above; Luang Phu To Wat Pradoo Chimplee performing Nang Prok Meditation for Empowerment of Amulets
This resulted in Luang Phu always choosing the best most powerful Masters to invite to attend his empowerment ceremonies to assist in the Blessing of amulets and Buddha Images. Luang Phu To remains to this day one of the top 10 Guru Masters in the recorded History of Thai Buddhist Amulet making, and most certainly one of the top 5 Monks of recent History, on an equal Par with the Great Luang Phu Tim (Wat Laharn Rai).His amulets belong to the Master-Class status category, and carry immense status in the world of the amulet appreciation society, for their Authentic Sacred Power, and the Purity of the Monk who Blessed them.
The amulets of Luang Phu To are famed and revered by devotees around the country and around the whole world, for the proven history of Metta Mahaniyom Maha Lap Klaew Klaad Kaa Khaay power to bless the devotee with lucky fortunes, safety, success and prosperity. Luang Phu To began to make Muan Sarn Sacred Powders amulets first in the year 2470 BE, using the main ingredient of Pong Lob, which is the residue chalks fallen from the inscription of five rounds of 108 Sacred yantra spells, to create five different concentrates of Sacred Powders.


These five powders are of course known as; Pong Bpathamang, Pong Ittijae, Pong Puttakun, Pong Trinisinghae, and Pong Maharach. It is also known that Luang Phu To would use broken up amulets from Wat Plab, and also broken up pieces of Pra Somdej Wat Rakang Kositaram of the great Somdej Pra Puttajarn (Dto) Prohmrangsri, are known to be present within the Muan Sarn Sacred Powders of Luang Phu To's amulets.
Other Muan Sarn used for the amulets include Pong Puttakun from Por Tan Klai (Wat Hongs, Thonburi), and of course Luang Phu To would bless the amulets in Nam Montr Prayer Water, using a Clay Holy Water bowl in his Kuti Hut, with a Dragon design on the bowl.
He would immerse the amulets in the holy water bowl, and When devotees would donate flowers to Luang Phu, he float the flowers in the prayer water bowl and use the offering to empower the amulets further. This in fact, is one of the reasons that some amulets have different holy water stains on their surfaces than others, due to the different flowers Luang Phu would immerse in the holy water bowl where the amulets were soaking.
Luang Phu would empower the amulets for the time of the Rainy season retreat (3 months), and repeatedly empower and bless them throughout this time. Some amulets were also released without immersion in prayer water. Of the 28,875 Pim Yai amulets made, 10,000 of them were donated to Princess Julaporn, to distribute as a gift to the people who made merits donating to build the Sirirat Hospital.


The Pra Pratan Gleep Bua Pim Yai and Pim Lek amulets are very popular with Devotees, for they are made from precisely the same Muan Sarn Sacred Powders as was used for the Pra Pid Ta Jumbo 2 Traimas Masterclass edition, which can cost up to even 40 times the price of a Pra Pratan Gleep Bua. It is hence obvious why this amulet is such a popular amulet with the devotee of Luang Phu This Votive Tablet is an Absolute Rarity and Eternal Classic, and extremely sought after spiritual item.The perfect choice for aesthetic beauty, spiritual value, and magic power, and top choice for the Serious Collector.
This beautiful amulet is most definitely a very fine acquisition, as a Sacred Votive Tablet of Pra Niyom Preferred Classic Category, that has been well looked after and maintained in its original state, and is a very well-kept amulet, that is worthy of competition entry for its clear features.
Luang Phu To of Wat Pradoo Chimplee was one of the greatest Masters of the Last Century, and a Highly revered Monk around the whole Kingdom of Thailand. he was Respected and revered by His Majesty Our great King, who was a close friend and companion.
Luang Phu To Wat Pradoo Chimplee
This Great Monk achieved his status through his Great deeds and his great Diligence in his Patipatā (Practice of Purity and Renunciation), and in his Great Attainments in Dhamma Pariyatti and Dhamma Patipatā.
Luang Phu To was born on the 27th March 2429 BE in Ban Klong Bang Noi in Samut Prakarn and passed away on 5th March 2524 BE. His many honourable awards of status reflect his great practice and diligence.
Pra Pid Tawarn Mai Gae Pim Jiw Thak Luad Hand Carved Sacred Wood Circa 2430 BE Luang Phu Rod Wat Ko Non
03657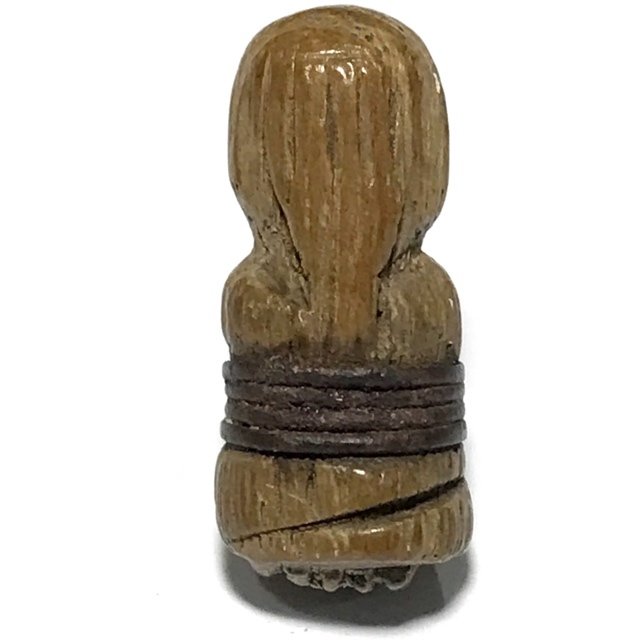 An Extremely rare and precious hand carved ancient amulet of the great Luang Phu Rod, of Wat Ko Non, Guru and Mentor to the Great Luang Phu Iam (Wat Hnang). The amulet is carved from sacred wood, and bound with copper wire with a pendant hoop for attachment, in the form of the Pra Pid Tawarn Nirodha Buddha, with hands covering facial and bodily orifices, and is a Pim Jiw Minature Model measuring Circa 2 Cm high x 0.8 Cm wide base. The Pid Ta of LP Rod enjoys great fame for its powerful magic.

The temple of Wat Ko Non is a very famous temple for possessing the Lineage Source of the Wicha and featured in the famous Biographies of two Great Lineage Masters (Mentor and Apprentice), of olden days, namely the Great Luang Phu Rod, and Luang Phu Iam Suwannasaro, the ex abbot of Wat Hnang, in Bang Khun Tien
There is not much documented information about Luang Phu Rod's life before Ordination, because in Olden days people did not register or keep records of things as much as we do in the present day, but from what evidence has been found, it is thought that Luang Phu Rod was born and grew up as a local of Klong Bang Khwang District, in Tambon Kung Than Municipality, in Amphoe Bang Khun Tian Metropolitan District of Nontaburi.
He was the abbot of Wat Nang Non during the time of Pra Bat Somdej Pra Jom Glao Jao Yuu Hua King Rama 4, and was an Adept Practitioner of Vipassana Kammathana who became Abbot of Wat Nang Nong temple, and was given the Royally Decreed Title of 'Pra Pawanagosol Thera.
During his time as Abbot there, His Majesty King Rama 4 traveled to visit Wat Nang Nong for the Kathina Robe Giving Ceremony, but became offended because Luang Phu Rod did not use the Royal Terminology when speaking with the King, and so his Royal Decree Title was removed, Luang Phu Rod had his Royal Pat Yos fan confiscated and was stripped of Royal status, and moved from Wat Nang Nong to stay at Wat Ko Non.
It is believed that the refusal to because Luang Phu Rod refused to use the official terminology of respect towards King Rama 4, because he was angry about the splitting of the Sangha into Dhammayut, and Maha Nikaya sects, which he considered the King to have caused a schism in the Sangha.
Luang Phu was unperturbed by the whole matter, and moved away from the city temple of Wat Nang Nong, to stay in the country temple of Wat Ko Non, which was in the region of his Birthplace, where he remained until the day of his passing, and became the famous Gaeji Ajarn whose Pra Pid Ta amulets.
His first apprentice Luang Phu Iam followed him, who was later to become equally famous as Abbot of Wat Hnang, and who would continue the famous Wicha Pra Pid Ta of Luang Phu Rod, and attain equal fame for this Wicha.
The Pra Pid Ta of Luang Phu Rod Wat Ko Non is one of the top ten Pid Ta amulets of all history, for Luang Phu Rod was considered in his time to be one of the Masters with the most powerful Wicha, with so many stories of devotees experiencing miracles with his amulets in circulation that his name became legendary around the whole country. It is told that a thief once stole the boat which was moored by riverbank belonging to the temple, and that the thief found himself stuck in the middle of the river with the boat spinning in circles, and could not get the boat to move no matter what he tried, and remained stuck there, until Luang Phu Rod came down from his Kuti Hut, and called out to the thief, to paddle back towards the temple.
The thief tried this and easily returned to the bank of the river, and gave the boat back to Luang Phu Rod in astonishment. Luang Phu Rod then invited the thief up to his Kuti hut and ordered one of the Samaneras to bring some food for him. he gave the thief a meal and said 'if you have satisfied your hunger, you can go home now', and the thief Bowed in reverence, and went peacefully home, filled with amazement and faith in the powers of Luang Phu Rod
. His ability to remove Black Magick Curses was especially renowned. He was a Monk who would spend long periods on Tudong in the Forest, even in the depths of the Jungle which was filled with dangerous elephants, tigers, and other predatory and poisonous beasts, but was Adept with Magical Protective Wicha to be able to survive all of these dangers.
There is a legend of Luang Phu Rod taking a Samanera Novice Monk with him on Tudong Practice in the forest, and they traveled as far as Huay Grabork in Kanjanaburi, where they encountered obstacles.
There were only two ways to continue their path through the forest, the first being to climbv over high mountains which were very steep with rocky clif faces, and very inaccessible, otherwise, before them lay a very wide lake covered in Lotuses. Luang Phu Rod turned around to the Samanera following him, and said 'shall we cross the marsh together?' The samanera answered 'If Luang Phu crosses successfully, i shall follow'. So Luang Phu Rod sat for a while in Meditation and invoked the Jhanic state of Apo Kasina (Water Elemental), and then slowly crossed the water marsh stepping on the lotus leaves, until he reached the other side.
The Samanera followed him by stepping on exactly the same leaves Luang Phu had stepped on, until he was nearly accross, whereupon he changed direction and stepped on a leaf which Luang Phu had not stepped on, and sank immediately underwater, and had to struggle to the bank of the water marsh. Luang Phu then taught the Samanera the importance of concentration when following, and when practicing, because on single moment of distraction is enough to send everything astray, and is tantamount to carelessness.
There are so many stories in circulation of the many miraculous or magical events related to Luang Phu Rod, his deeds and his amulets, especially the Pra Pid Ta. During the time at Wat Ko Non, both Luang Phu Rod, and his Apprentice Luang Phu Iam (Later to be Abbot of Wat Hnang), made Pra Pid Ta in the same design and fashion, using hand carved wooden images made from sacred treewoods, for distribution to devotees.
The amulets brought such powerful results to devotees, that the Pra Pid ta Mai Gae wooden carved amulets of both Luang Phu Rod Most Pid Ta would have a tiny hole made in the base with a miniature parchment scroll inserted with spells inscribed invoking Pra Sangkajjayana, Pra Sivali, and Pra Pakawambodee Arahants. The base would then be filled with Channarong Stingless Bee Paste, considered a wealth bringing magical substance within the Dtamra Saiyawaet Grimoires.
Some amulets were left in original wood, and other amulets would be coated with laquer or herbal resins, and sometimes also gold leaf blessing, to increase power, and to protect and seal the amulets from the weather, and make them and their magic long lasting.
Although Luang Phu Rod taught Luang Phu Iam to make these amulets in the same fashion, his Looksit LP Iam himself did not make as many carved wooden amulets as Luang Phu Rod his Mentor, and had slightly more preference to make them both from Wood and from Sacred Alchemical Metals, in order to ensure enough amulets to provide for all devotees.
The wooden Pid Ta of Luang Phu Rod were hence made in larger numbers than those of his apprentice Luang Phu Iam. It can be said however, that the amulets of both masters are extremely rare to encounter, and highly prized acquisitions of the serious devotee of authentically powerful amulets, and avid collectors of Pra Niyom Master Class Category Amulets.
Because of the time consumption involved with hand carving wooden minature Buddha images, Luang Phu Rod himself also did not make many amulets during his trajectory, blessing each one as they were carved individually, making the Pra Pid Ta of Luang Phu Rod a true 'Essential Rarity' and one of the most highly revered Pra Pid Ta Amulets of All Time, along with those of Wat Tong, Luang Phu Iam, Luang Phu Rod of Wat Bang Nam Won, Pra Pid Ta Rae Bang Phai, and The Pra Pid ta of all the Masters of Wat Sapan Sung (LP Iam, LP Glin, LP Tong Sukh).
Luang Phu Rod Passed away in the Year 2441 BE, leaving his Looksit Luang Phu Iam of Wat Hnang to Continue the Lineage Wicha of the making and empowerment of Pra Pid Ta Mai Gae carved sacred wooden Nirodha Buddha amulets of immortal fame.
For Chanting, the Kata Pra Pid Ta, Kata Pra Sivali, Kata Pra Sangkajjai. and Kata Pra Pakawambodee can all be used for Bucha to this amulet with equal effectiveness, for all of Luang Phu Rod's Pra Pid Ta are empowered with the invocations of all three Arahants.
Temple:Wat Ko Non
Year of Issue:
Circa 2420 - 2430 BE
Maker of Amulet:Luang Phu Rod
Weight:2 Grams
Recommended Uses:Protection, Evade Danger, Prosperity, Mercy Charm, Buddhanussati, Meditation, Good Karma
Size of Amulet:2 x 0.8
Encasement Options
Solid Gold Custom Casing - We will email you with a price quote and Invoice you on agreement. (0) Waterproof Casing (0) None (0)