A pristinely kept and extremely rare Rian Mangorn Koo Nuea Nava Loha Pim Pised Dtok Sorng Code Ma Wat Pha Nong Lom Run Sao Ha Maha Sethee 5th Lunar Saturday Blessing Ceremony Edition Guru Monk Coin, released in 2543 BE, to raise funds for the Kuti Songk Monks Huts and improve the facilities at the temple of Wat Pha Nong Lom.
This model of Rian Mangorn Koo twin dragons Monk Coin is a very rare Pim Pised (Niyom preferred) and differs from the majority of Rian Mangorn Koo Wat Pha Nong Lom Edition coins in Nava Loha, because of the double code MA stamp. Most coins of the Nava Loha series made for Wat Pha Nong Lom have only a single code Ma Stamp (on the Sangkati chest sash of the robe of Luang Phu), and only the Pim Pised special models received double code stamps. Only very few (unknown number) were distributed with double code stamp, making this not only a sacred, powerful master class amulet, but also a rare collectors piece.
The Rian Mangorn Koo of Luang Phu Hmun is, as are all of his amulets, known for the power of Jaroen Lap Wealth Increasement, and Lucky Fortunes, as well as for their Miraculous Protective Powers. Those born in the year of the dragon love to Bucha this amulet especially, for the obvious reason of the double dragon guardians.
For those with lower budgets, who seek power above collectability and rarity, we recommend to seek the Rian Mangorn Nuea Tong Daeng or Nava Loha single Code Ma, of the same edition, which carries a lower price than this special Nava Loha Pim Pised Gammagarn double code collectors edition model.
Rian Sema Som Pratana 2543 BE Nuea Tong Daeng 3 Code Stamps Ma-U-Dto LP Hmun Wat Ban Jan
03601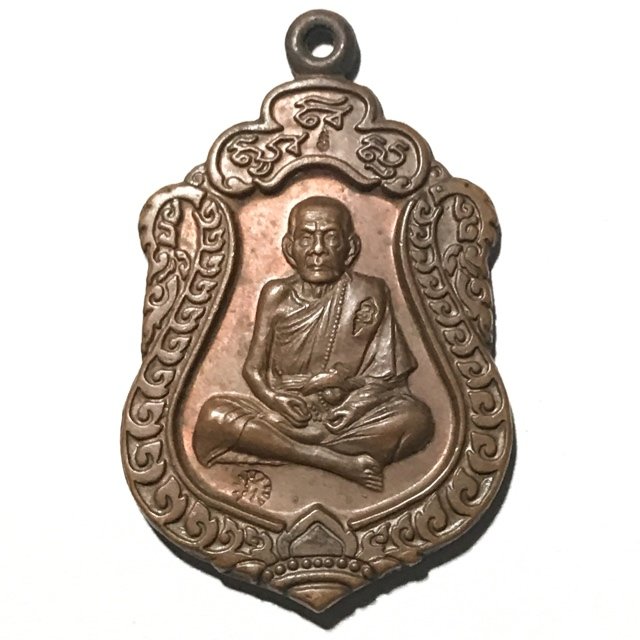 The Rian Sema Luang Phu Hmun is one of the the most favoured, highly priced and more highly acclaimed coin amulets of the pantheon (Tamniab) of amulets (Wadthumongkol) of this Great Master, released after two blessing ceremonies at Wat Sap Lam Yai in Lopburi.
The Rian Sema Yai Nuea Tong Daeng Sacred Copper Guru Monk Coin of Luang Phu Hmun with three code stamps (code Ma, code U, and code Yant Dto), was one of various models released in the 'Run Som Pratana' (fulfil your wishes) edition.
The Rian Sema coins were made with permission from Luang Phu Hmun as a charitable act for Pra Kroo Samuh Pasn, abbot of Wat Sap Lam Yai and first apprentice of Luang Por Guay of Wat Kositarsam, who had also become an apprentice of Luang Phu Hmun himself. Released in Solid Silver (300 amulets made), Silver with Ya Rachawadee enamels (500 amulets made), Nuea Nava Hnaa Gaag Ngern (Nine Sacred Metals with Silver Image), and Nava Loha Long Ya (9 Sacred Metals with Rachawadee Enamels), of which about 300 were made of both kinds.
Listed but Never Made Models
As far as the other listed and talked about models in Solid Gold (Unknown Number), Nuea Nava Hnaa Gaag Tong Kam (9 Sacred Metals with Solid Gold Image), and Nuea Ngern Hnaa Gaag Tong Kam (Solid Silver with Solid Gold Image), they were never made. The aforementioned models were indeed mentioned in the list of the pre-release booklet distributed by the temple, but in the end, were not made, and hence do not exist.
The rest of the edition consisted of Rian Sema in Nuea Tong Daeng Sacred Copper (10,000 amulets made), and Nuea Tong Daeng Long Ya Block Dtaek Dtok Code 7 Code (Sacred Copper with Rachawadee Enamels which the Block Press broke during the pressing, limiting the numbers to 676 coins). In addition tio this another 300 special Gammagarn coins in Tong Daeng Pid Tong Sacred Copper with Gold Coating were handed out during the ceremony, and some with silver images - only about 300 of these Gammagarn coins were made in total, and are extremely rare to see.
Below: Rian Sema Som Pratana Luang Phu Hmun Pim Pised Nuea Tong Daeng Hnaa Gaag Ngern Sacred Copper with Silver Image rare version
In addition, some coins were given different code stamps and released at Wat Ban Jan (Code Chedi, and Code Dork Mai), as well as some blessed at Watv Sutat which were stamped with the code Tor (ท) and some with number nine (๙), which were handed out to soldiers and state officials.
Below; Code Stamp U (Unalome) Beneath the Khom Letter I of the Kata on the upper region (I Swaa Su)
In fact, this is the reason we often see a great connection and even similar designs on certain amulets, from the temples of LP Guay of Wat Kositaram and of LP Hmun of Wat Ban Jan, for indeed, they are a connected magical Lineage. The coins were made to raise funds to build the Sala Terd Pragiart shrine, and to cast a life size metallic statue of Luang Phu Hmun at Wat sap Lam Yai for devotees of the lineage to Bucha.
It is said that Luang Phu Hmun promised during the ceremony "Chan Ja Hai Ter Som Pratana Tuk Yaang" (I will bless you all to have all your dreams fulfilled), which gave the name 'om Pratana' to the edition, for many if not most devotees attained their goals with this amulet, which is also a large part of what has brought such fame and popularity to this edition.
Below; Code Stamp Ma (some say 'Mee) on the lower left region of the surface of the front face of the amulet, with clear and deep impressions, showing the ,mark of authenticity
The Rian Sema Run Som Pratana was were just one of many different amulets in the Som Pratana Edition, mostly in the form of Luang Por Guay's Classic Amulets, such as the Pra Somdej Hwaek Man Hlang Mae Toranii. The amulets were passed through Buddha Abhiseka on the 5th of December 2542 BE.
Below; Code Stamp Yant Dto on the Sangkati sash of Luang Phu's Jivara Robe is the third mark of authenticity to seek in the Rian Sema Tong Daeng LP Hmun
A large number of Great Master Monks attended the Ceremony, including some Internationally Famous Names noted for their diligent Patipatā and Powerful Magic. Some of the more famous Masters attending the Ceremony were; Luang Phu Samai, Luang Phu Hongs Prohmabanyo, Luang Por Ruay of Wat Tago, Luang Por Pian, Luang Phu Teer, Luang Por Sawai, and Luang Phu Hmun Tidtasīlō of Wat Ban Jan presiding over the Ceremony. Luang Phu Hmun, of Wat ban Jan, Sri Saket, is the Looksit of the Lineage of Somdej Lun of Jampa Sak (Laos).
The Miracle Powers of Luang Phu Hmun are Legendary, with so many stories of Miraculous events related to this Monk, who has seen the Reign of Five Kings in his Lifetime. Luang Phu Hmun's amulets are now very hard to come across, and carry mid-elevated price ranges, having entered the annals of Pra Niyom High End Master Class Category within all amulet associations and fanclubs.
Below; The bottom 3 Granok Flame decorations are noticeably placed close together, another feature to seek when authenticating the Rian Sema LP Hmun
Luang Phu Hmun was a Maha Thaera Guru Monk of great age and who recieved Great reverence and Respect from the people of Tambon Jan for his Diligence and Purity in practicing the Vinaya as a Buddhist Monk. His Miracle Powers are Legendary, with so many stories of Miraculous events related to this Monk, who has seen the Reign of Five Kings in his Lifetime.
The front face features the image of Luang Phu Hmun seated in relaxed Meditative Posture counting rosary beads in prayer, with the Khom Agkhara three syllable Kata 'I SWAA SU' above him, and the code U (Unalome of the Arahants) code stamp below the three syllable Kata. The coin is in Sema shape and has beautiful Lai Thai Granok flamed patterned framed arch around the edges of the amulet. Yant Dto Code stamp is embossed on the chest of Luang Phu, and the Code Stamp Ma embossed on the lower face of the coin below Luang Phu.
Below; The lettering of the words Wat Ban Jan on the rear face are found to be thin lettering, and highly defined, and concave in authentic models
Luang Phu Hmun's amulets are now very hard to come across. his amulets are becoming very rare, and prices have risen constantly since his passing, snapped up by the inner circle of devotees and collectors, who know about the attainments of this Monk, and that there are severe reasons to believe that he may have been an Arahant. His amulets are eminent members in the annals of the Classics. The Rian Sema has become one of the most important and highly revered/valued editions of amulets of Luang Phu Hmun, and is one of the rarer amulets of the pantheon to encounter, especially in its special versions, which are hardly ever to be seen since some years now, having found their respective owners.
Below; the story of the Pra Somdej Hwaek Man of LP Hmun and LP Guay
Kam Ārātanā Buchā Luang Phu Hmun Tidtasīlō
Namō Dtassa Pakawadtō Arahadtō Sammā Samputtassa Namō Dtassa Pakawadtō Arahadtō Sammā Samputtassa Namō Dtassa Pakawadtō Arahadtō Sammā Samputtassa
Luang Phu Hmun Tidtasīlō Ma A U Luang Phu Hmun Tidtasīlō U A Ma
Below; Front Cover of first of a two volume encyclopaedic pantheon of the amulets of Luang Phu Hmun Tithasilo, of Wat Ban Jan
It is told that those who Bucha his amulets will be protected from 'Dtaay Hoeng (premature deadly accidents), and that the Devas will Protect the wearer of his amulets.
Bucha to Luang Phu Hmun should be performed on a Thursday, and should include offerings of; 16 Incense stick, 2 candles (lit), white flowers, or one puang malai garland. Hmak Plū Betel-Areca Nut with chewing paste (5 or 16 portions), a glass of sweet drink such as fizzy drinks, one roasted catfish, some rice or sticky rice, or fermented rice, or even steamed rice pudding.
Kata Bucha Luang Phu Hmun
Dtua Gū Lūk Pra Putta Ongk Krū Sit Tudong Ong Āj Mai Bpramāt Krū Pob Roi Gom Dū Jer Krū Grāb Hwai
The word 'Hmun' means to turn and increase (revolve). Luang Phu Hmun always foretold that those who Bucha his amulets, would turn their luck and fortunes around, and increase their Business Success. He also foret: 16px;"> This amulet is an extreme rarity and is in pristine condition and highly eligible for show in competition, with excellent chances of prize winning (be warned about competition rules, that to encase an amulet in waterproof or other irremovable casing such as waterproof gold, would make an amulet ineligible for competition entry, but still eligible for certification of authenticity).
Considered extremely powerful protection and prosperity magic from this legendary miracle monk, and one of the most well known amulets of his pantheon. A true Pra Niyom amulet of Master Class, for devotees and aficionados of Luang Phu Hmun Tidtasīlo's amulets, to treasure and wear with confidence of safety and good fortune
Luang Phu Hmun is renowned for having stated some Mysterious things;
Dtua Gū Bpen 1 Bor Bpen 2 Nai Phaen Din Nī (there is only one of me in this land)
Dtua Gū Bpen Hlek (i am made of iron)
Dtab Gū Bpen Tong Daeng (my liver is made of copper)
Phao Dtua Gū Bor Mī Hmai (in cremation, my body will not burn).
Temple:Released at Wat Sap Lam Yai
Maker of Amulet:Luang Phu Hmun Tithasilo (Wat Ban Jan)
Weight:14.8 Grams
Number of Amulets Made:10,000 Amulets Made in Nuea Tong Daeng
Size of Amulet:4.2 x 2.8 Cm
Encasement Options
Solid Gold Custom Casing - We will email you with a price quote according to current Gold Prices, and Invoice You after Agreement (0) Solid Silver Custom Casing - We will email you with a price quote and Invoice You after Agreement (0) Waterproof Casing (0) Stainless Steel Casing (Removable non Waterproof)) (0) None (0)