A 3rd Prize winning Competition Standard Master-Class amulet of the Benjapakee Immortal Classic Family, the Pra Somdej Wat Bang Khun Prohm Kru Gao (Chedi Yai), Pim Sen Daay Kru Gao. An Immortal Classic and one of the most famous Thai Buddhist Amulets of all time, as well as being amongst the top preferred amulets of the serious devotee and wealthy collector of the accepted amulets of Somdej Pra Puttajarn (Dto) Prohmrangsri, of Wat Rakang Kositaram.
The Pra Somdej of Somdej Dto are the number one amulets of all time, be they from Wat Rakang, Wat Bang Khun Prohm,or Wat Gaes Chaiyo. Made in the period between 2411 and 2413 BE, three years before the passing of Somdej Dto himself, and buried in the Stupa until their distribution in 2500 BE
This amulet comes with its third prize winning certificate micro-chipped certificate card of the Chomrom Pra Tae Mueang Siam Amulet Appreciation society and complimentary box with third prize ribbon sticker. We offer free Gold, Waterproof or Solid Silver Casing with this amulet. whichever you prefer. Free EMS Shipping is also included in the price
The rear face shows the presence of all the classic features and muan sarn ingredients of a true Pra Somdej Bang Khun Prohm of Somdej Dto, with Kraap Kru on the front face revealing it to have been placed within the larger Chedi Stupa of the 2500 BE Opening. The Kru Gao (Chedi Yai) amulets are more highly preferred than the Kru Hmai (small Chedis) amulets, which were found later within the nine smaller Chedi Stupas surrounding the main central Stupa.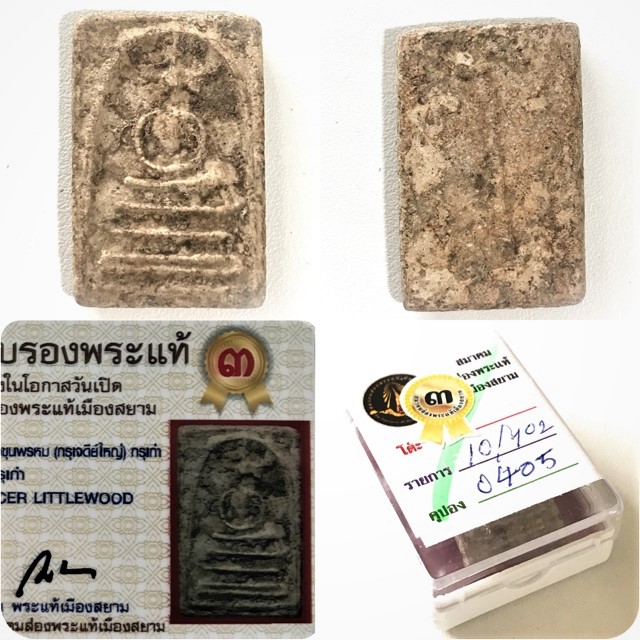 Pra Somdej Bang Khun Prohm is one of the classic Pra Somdej amulets available and is along with Pra Somdej Wat Gaes Chaiyo perhaps the next in line to the Pra Somdej Wat Rakang amulet as far as popularity, beauty, sacredness of Puttapisek ceremony and price range.
Pra Somdej Bang Khun Prohm Kru Pra Chedi Yai (Large Chedi Kru amulets)
The Pra Somdej Bang Khun Prohm amulets classified as a Kru Pra Chedi Yai, have 9 different Pim Song, and were made in the period between 2411 and 2413 BE. Not all of the Pra Somdej Bang Khun Prohm were placed in the Kru, it took many years to create and press them and many would be in a receptacle in the Kuti and would be handed out by him during the time he created and empowered them.
This explains the absence of Kraap Kru in some exhibits, as well as being purely logical and the most probable chain of events to have occurred. The Thaan Saem is one of the 5 Pim Song of Pra Somdej, which exist in both the Kru Wat Rakang and Kru Bang Khun Prohm amulets. Pra Somdej Wat Rakang have Five major category of Pim Song, whereas the Pra Somdej has four more Pim Song, making it nine major Pim in all.
These 9 Pim are; Pim Yai, Pim Sangkati, Pim Song Chedi, Pim Prok Po, Pim Gaes Bua Dtum, Pim Thaan Koo, Pim Sen Dai, Pim Ok Krut.
History records that, in the year of the Dragon 2411 BE, Samian Tra Duang Tongoses made restoration work Wat Bang Khun Prohm Nai (Wat Mai Amataros), and renewed the temple along with the building of a new Chedi Stupa, in order to place Pra Somdej amulets, which Samian Tra Duang invited Jao Prakhun Somdej Pra Puttajarn (Toh) Prohmrangsri, of Wat Rakang Kositaram to place there, as well as to empower. The amulets were made in the Pra Somdej Traditional formula of 84,000 pieces (same as the number of suttas of the Pra Tammakhant).
After Somdej Dto had blessed and empowered them, Samian Tra Duang was allowed to place then in the Kru hiding place within the Chedi Stupa behind the Upopsadha shrine room. During the time from then, the Chedi was sometimes accessed and amulets were removed from time to time, and even some thieves dug holes and stole some.
This became so bothersome that the Kru had to be broken open officially on 24th November in 2500 BE.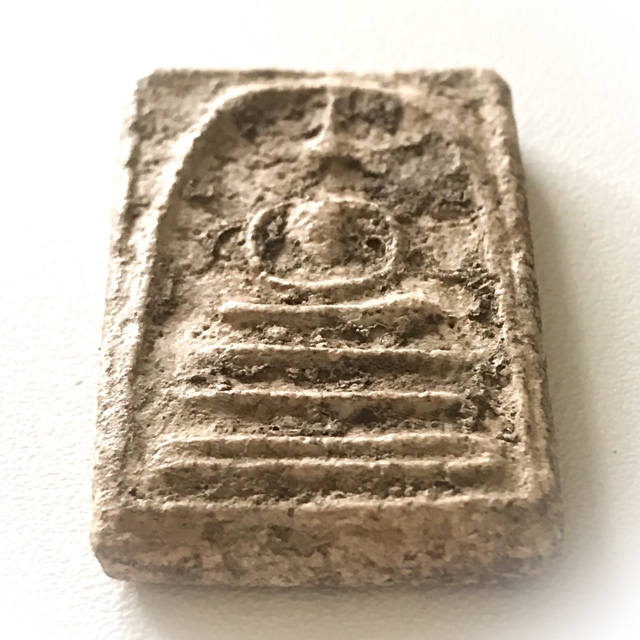 The opening took all day, until at approximately 8 pm, the very last Pra Somdej amulets were removed. Many of them were very thickly coated with 'Kraap Kru' (residues and growths). The amulets were allowed to be rented out by devotees, until the year 2509. The total amount of money raised from the rental of these amulets amounted to about 4 Million Thai Baht.
This money was used to construct the new Uposadha shrineroom, and the renovate and restore the old Chedi Stupa, as well as making a bronze statue of Tan Jao Prakhun Somdej Toh, which was completed and celebrated in 2509 at the same time as celebrating the building of the Putta Sima (temple walls), and the burial of the 'Look Nimit' (all Uposadha shrine rooms must have a Look Nimit ball buried under it).
The depletion of this series led to the creation of yet another immortal legend of the Pra Somdej Niche in 2509, namely the Pra Somdej Wat Bang Khun Prohm 09 Edition, which is in itself one of the most highly collected amulets of serious collectors and devotees, and also carry relatively elevated prices.




























Pra Somdej Bang Khun Prohm Pim Sen Daay Kru Gao 3rd Prizewinner Ancient Benjapakee Amulet – Somdej Pra Puttajarn (Dto) Prohmrangsri of Wat Rakang.
Rear face view of Pra Somdej Bang Khun Prohm Pim Sen Daay Kru Gao 3rd Prizewinner
Micro Chipped Certificate of 3rd Prize Pra Somdej Bang Khun Prohm Pim Sen Daay Kru Gao




This Classic edition of Somdej Bang Khun Prohm, are considered to have extremely powerful Buddha magic in them due to the richness of sacred powders and powerful blessings contained within from great master Somdej Dto.