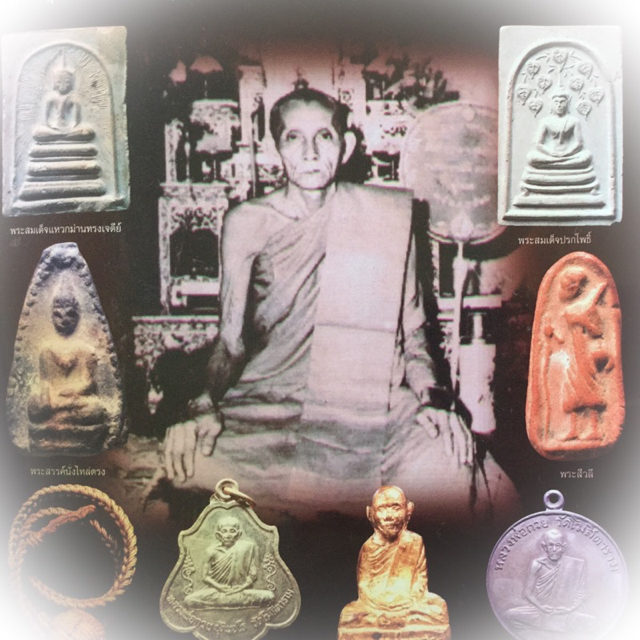 Luang Por Guay Chudtintaro, of Wat Kositaram in Chainat, was a Great Sorceror Monk with Powerful Kata Akom, and Mastery of the Wicha Sak Yant.
Luang Por Guay was famous for his immensely diligent and complex manner of empowering (Pluk Sek) amulets, which involved daily empowerments at various times of day namely at dawn, morning, midday, afternoon, evening and midnight
tIn addition, he would perform empowerments during the various 'Reuks' (Astrological Influential moments), to bring total coverage of protection and fortuitous blessings to all who might wear and Bucha his amulets.
His method involved the choosing of the 'Reuks Mongkol' Buddhist Auspicious alignments, the 'Reuks Jone' (Gangster Alignments) Inauspicious Alignments, and the 'Reuks Bun Paya Marn' Demonic Influential Alignments. This means that it did not matter who wore his amulets, Good people would wear them, Gangsters would wear them, anybody could wear them without loss of magical effect.
Luang Por Guay was an Ajarn Sak who was very dedicated to the creation of authentic amulets using the ancient traditional Wicha. His Sak Yant did not have much Khom Agkhara lettering embellishing it at all, and were usually one single Yant.
Sometimes small, or sometimes large enough to fill the whole back. Most Looksit would only come and get get Sak Yant once, or twice. At the most, three times would be the maximum that a Looksit would come to add more tattoos. His compendium would begin the composition as follows;
The first Yant would be a Yant in the middle of the chest, and one more Yant on the back.
If anyone wished for extra they could return and get more. If he laid more on, he would place Hanuman on the flank. If that wasn't enough for them, he would add a tiger. But there were very few Looksit who ever got the tiger
Luang Por Guay was born on 2nd of November 2448 in the year of the snake, in Soi 9, Ban Kae , Tambon Bang Khud, Sakburi, Chainat
He passed away in 2522 BE Under Miraculous Circumstances; Click Here to Read Full Biography of Luang Por Guay Wat Kositaram
---