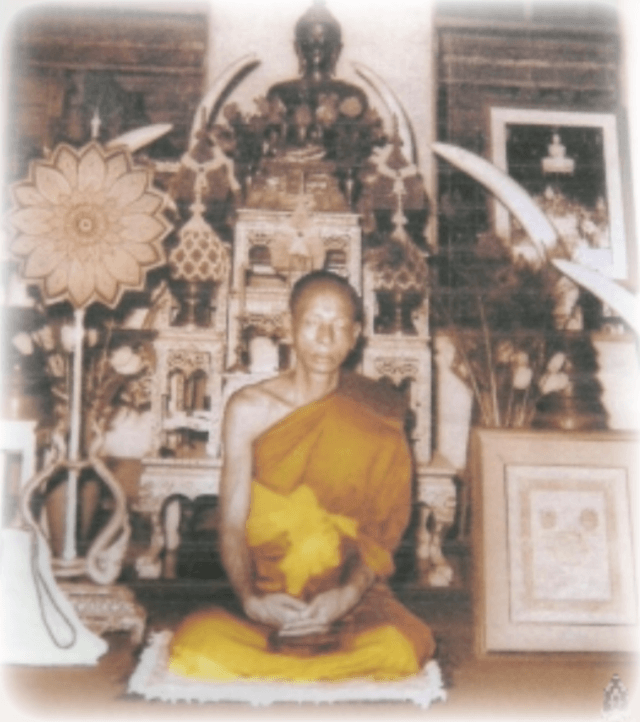 Luang Por Phaew of Wat Tanode Luang, was a Lineage Master and Inheritor of the Wicha of the Great Kroo Ba Ajarn Luang Por Tong Sukh (Wat Tanode Luang), who was his Mentor, and Predecessor.
Luang Por Phaew learned all of the Wicha with Luang Por Tong Sukh, and was his assistant throughout until the passing of his Kroo Ba Ajarn. The amulets of Luang Por Phaew were made continuing the methods and style of Luang Por Tong Sukh, preserving the Wicha in Continuation.
Luang Por Phaew's amulets are very rare, for he never made any large amounts, and is rarest of all amulets is his first and only ever Edition Guru Monk Coin from 2517 BE, which featured a simple image of Luang Por Phaew on the front face, and Sacred Na and Kata Khom Akom on the rear face.
The first edition coin amulet was famous for Luang Por Phaew's applied method of empowerment. He used the 'sadet Glab' method of throwing the amulets into the ocean and calling them back of their own accord. It is said that when the amulets returned through the Mysterious Invocation, one coin was missing. The rumorous legend which arose from this, was that the Naga King of Bodhala had taken one for a memento as the amulets were travelling under the ocean in the slipstream
---