Presenting a rare opportunity to admire an extremely attractive, very well-preserved, and detailed Pra Somdej Gao Chan Hoo Bai Sri Hlang Bpam Yant Hmeuk, Buddha on 9 Tiered Dais Amulet, in Nuea Pong Puttakun, with Sacred Yantra Blue Ink stamp on rear face, from the great Olden Days Master, Luang Por Kee, of Wat Huchang.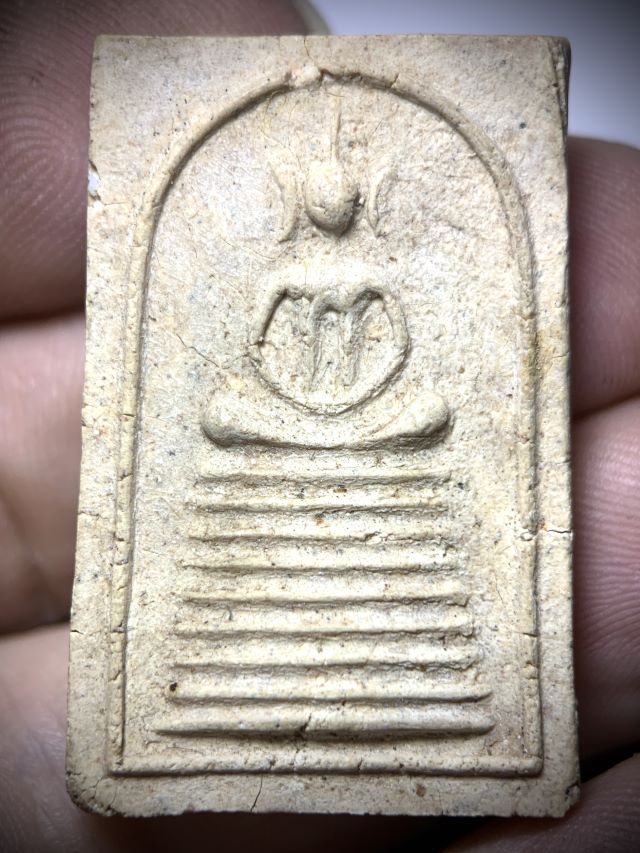 Luang Phor Kee of Wat Huchang (also spelled as 'Luang Por Gee', 'Wat Hoo Chang'), was a highly renowned monk in olden days, for his purity of practice. LP Kee, was born in the year 2444 BE (Budhist Era), into a family who were mainly employed in the medical, or natural healing profession. He already knew the Wicha for making holy healing prayer water long before he became a monk, because of his experience with the family practice of healing.
Below; the rear face of the amulet has blue ink stamp with Sacred Yant embossed, and the name of Luang Por Kee, and the Temple 'Wat Huchang'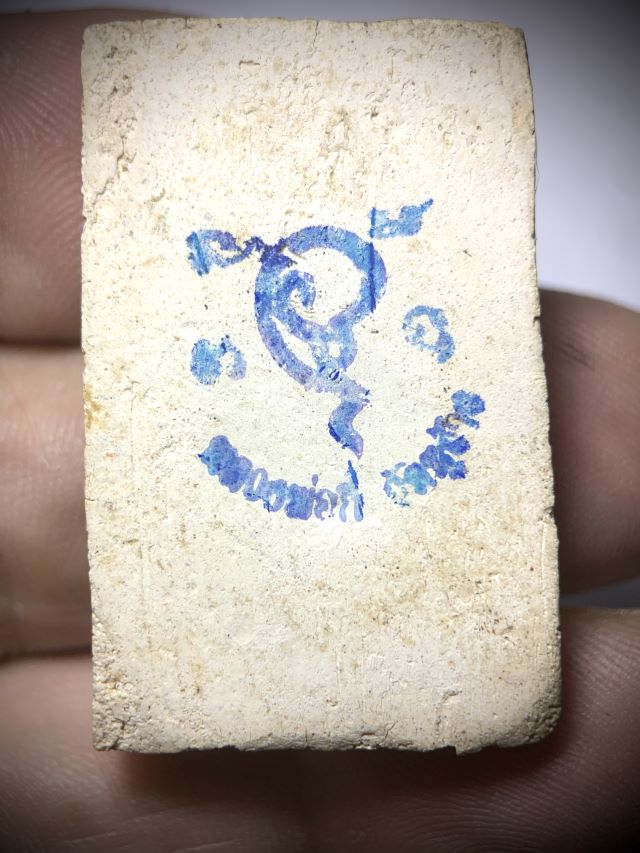 Luang Phor Kee was a Looksit of Luang Phu Ee, of Wat Sattaheeb, and usually used the wicha of LP Ee or the Wicha of his other Kroo Ba Ajarn Grom Jaab, one of the teachers of Luang Por Parn of Wat Bang Nom Kho. He taught all of his Wicha to the current abbot, also famous for Palad Khik, Luang Phor Tee, who was also extremely favored for Wicha Palad Khik, Taw Waes Suwan, Brahma amulets, and other talismanic charms such as the Bia Gae.
Below, Just some of the famous amulets of Luang Por Kee presented in encyclopedic works.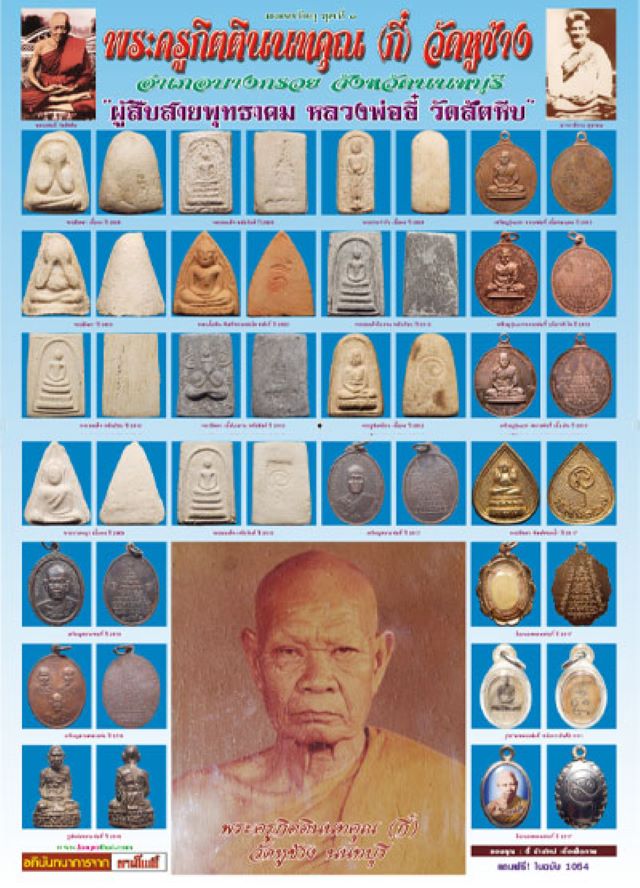 LP Kee is known to have spent a long time in the caves and mountains and forests, wandering, around thee land, and visit various masters and temples to exchange experience and seek out magical Wicha with other Masters. It was during this time that he came to know the Great Luang Por Ee, of Wat Sattaheeb in Chonburi, who was and still is considered by many as one of the top Masters of all time for Wicha Palad Khik.
Below Images; Macro Close Ups of Muan Sarn Sacred Powders of the Pra Somdej Gao Chan Amulet of LP Kee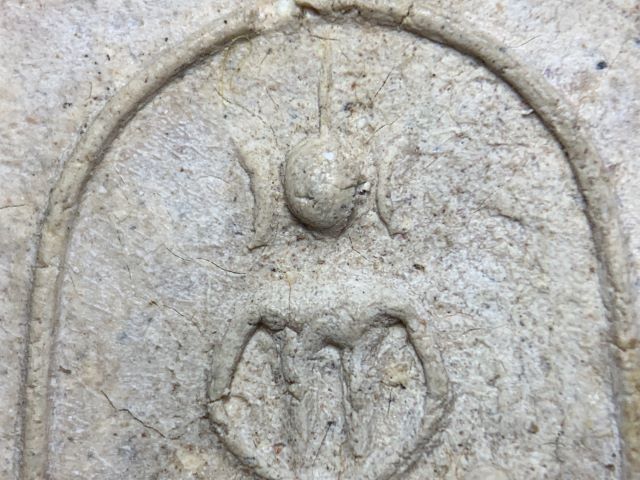 LP Kee also accumulated a plethora of Magical Wicha from many other Masters, such as the Great Luang Phor Fak of Wat Nikom Prachasan, Luang Phor Hluea Wat Sao Chanoke, Luang Phor Glan of Wat Intarawat, LP Sawai of Wat Bridaram, LP Tim of Wat Laharn Rai, LP Yid of Wat Nong Jork, Luang Phor Ding of Wat Bang Wua, Luang Phor But, of Wat Prohm Wiharn, Luang Phor Soke of Wat Pak Klong Bang Krok, Luang Phu Maekh, and Luang Phor Kong of Wat Wang Sapparot.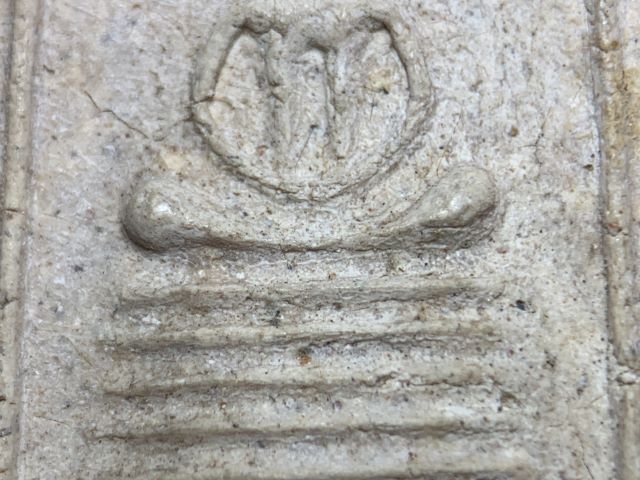 Luang Phor Kee was constantly visited by masses of devotees daily in his time, for magical healing, amulets, removing curses and performing exorcisms. LP Kee was highly experienced in Wicha, for having received the secret teachings of the Great Luang Phor Ee of Wat Sattaheeb, Luang Phu Daeng of Wat Takian, The Great Luang Phor Parn, of Wat Bang Nom Kho, Jao Khun Bhodi, of Wat Chaiyapreuks Mala, and also practiced under Gong Jaab, Master Adept of the Samnak Wat Pradoo Song Tam in Ayuttaya, and teacher of some of the greatest Guru Monks of that Era, in Khom Agkhara and Spellcasting methods.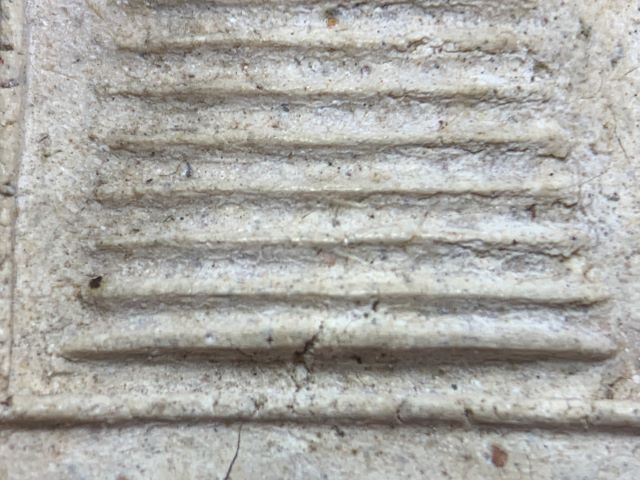 Even though Luang Por Kee is long since passed away, his amulets remain as popular today, as they were during his lifetime, as does the memory of his humility and diligent practice of purity, and the work he did helping the poor, healing the sick, and restoring and improving the temple of Wat Huchang. His Por 'Khun Palad Khik' were highly sought after even in his time, for his ritual that would make the Palad Khik rise up and stand up on their own when LP Tee would stroke the head of the Palad Khik, and chant "NA NA NA NA"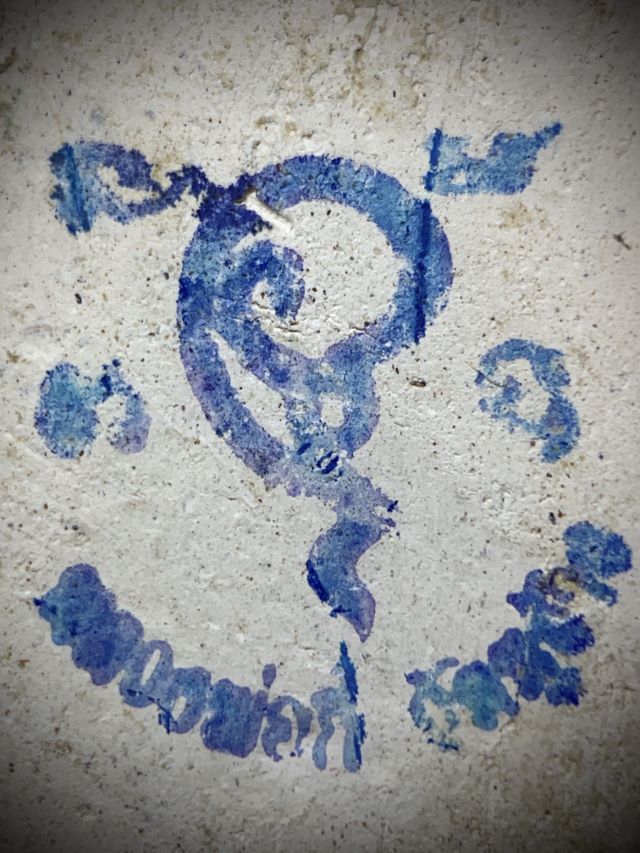 The Palad Khik of Luang Phor Kee became very popular with bandits and gangsters, as well as amorous casanovas, who love nocturnal activities to seduce lovers, who would stroke the head of the Palad Khik three times and chant 'NA NA NA" before approaching a lady or before confronting an enemy. Luang Phor Kee is often confused with Luang Por Tee, also of Wat Huchang, because both passed their magical tests at Wat Pradoo Song Tam. It is the tradition at Wat Pradoo Song Tam to grab the hand of the apprentice, and force his hand to inscribe the Khom Agkhara spells, in exactly the same way with all students.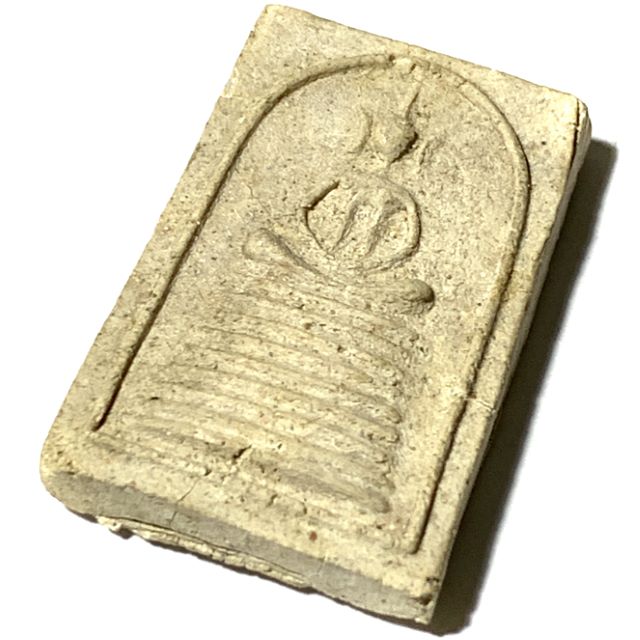 And so the inscriptions of Luang Por Kee and Luang Por Tee, both famous for Palad Khik, and both attributed to the temple of Wat Huchang, are very similar, and takes an expert to separate one from the other. One easier way to tell, is that LP Kee has slightly more graceful handwriting than LP Tee, and that LP Kee made small, and medium sized Palad Khik mostly, whereas those from LP Tee were often much larger, ranging as large as up to 6 inches.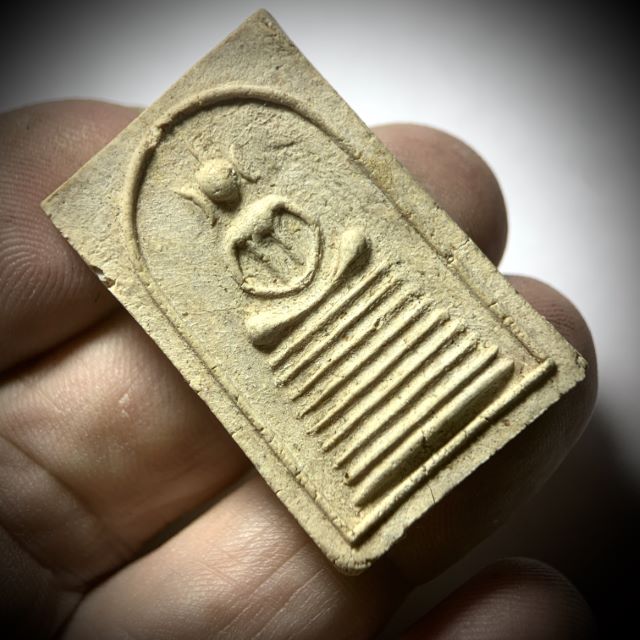 The Palad Khik of Luang Phor Kee, and Luang Phor Tee, are equally classed by most groups of aficionados, as one of the top 4 Palad Khik of all time The Palad Khik of Luang Phor Kee, and LP Tee, of Wat Huchang, are both highly esteemed on a National and Historical level, to the point where they can be mentioned among the list of the great Palad Khik of the greatest Masters in recorded history.
The Palad Khik, and other amulets, such as the immensely rare and preferred 'Pra Somdej Hlang Ma A U', Bia Gae, and Takrut of Luang Por Kee became very popular, because many market traders and other devotees who received one of his amulets, all recounted high business success and improvements in quality of life, or stories of gun-stopper magic, and evasion of deadly accidents.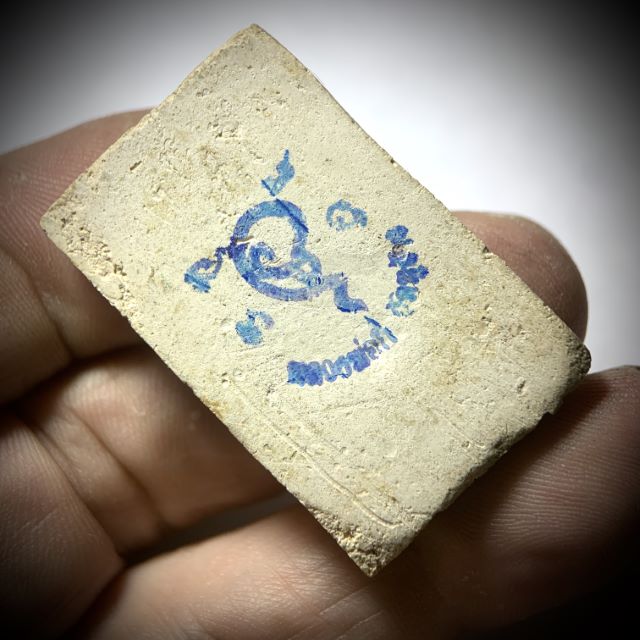 Luang Por Kee's amulets became hence, a common folk tale, not only with local devotees, but also throughout the country. This made the successes of devotees wearing his amulets well known, and LP Kee came to be recognized across the country, as a Master Monk of National Fame and Status, with Powerful Magical Prowess He was often visited for help by devotees for his Wicha in healing illnesses and exorcising ghosts, demons and possessed people. His Coin and Sacred Powder Amulets, Takrut, Bia Gae, and Palad Khik remain amongst the hardest to find amulets, and of course, his World Famously Powerful Palad Khik. Of his Palad Khik, some hold a very much higher price for their rarity when carved in ivory or coral, instead of wood.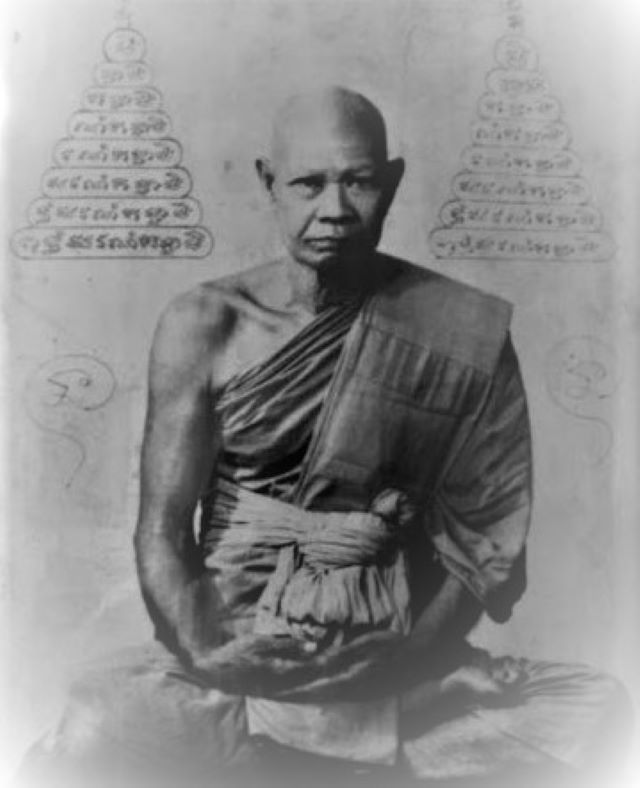 Luang Phor Kee remained Abbot of Wat Huchang for many yeaes, serving his devotees, the community, the temple and contributing to Buddhism, as well as develping his Magical Powers throughout his trajectory, until his passing, on the 10th March 2522 BE at the age of 78. His amulets remain among the most preferrred and sought-out, especially with Thai Buddhist Devotees of Paklad Khik, Takrut, and those adherent to the great Wat Prasat 2506 Ceremony, for his Pra Somdej U A MA amulets.
---