The World Famous Hun Payont amulet, of Ajarn Loi Po Ngern, Great Ayuttaya Master and direct lineage continuance of the Wicha of Luang Por Glan of Wat Prayatigaram. The Hun Payont of Ajarn Loi, are said to be the number one Hun Payont amulets of all time, and are the most sought after and desired items by devotees of this kind of amulet. Unfortunately, the amulets of this great olden days Master. Perhaps the number one Hun Payont in Historical Documentation, ancient and highly reputed for its power, the Hun Payont of the Great Ajarn Loi Po Ngern, Great Olden  Days Lay Master of the Ayuttaya Province.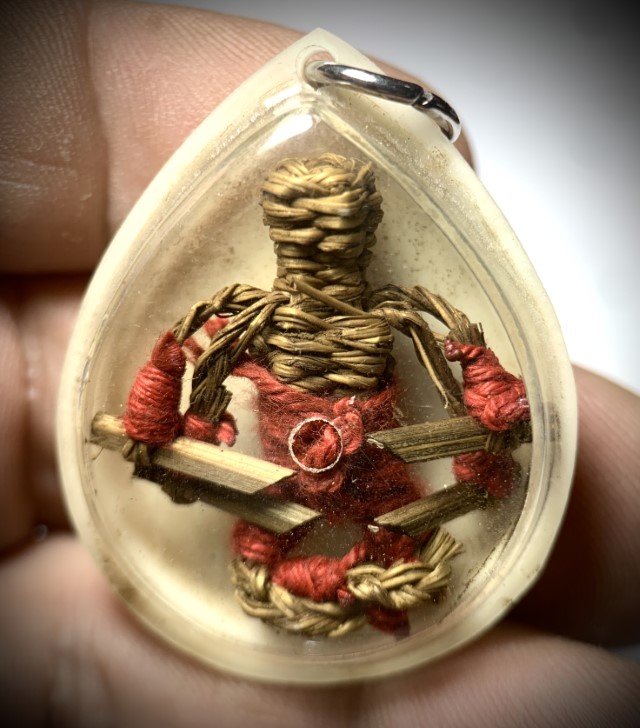 Ajarn Loi was born in the month of February 2454 in Nakorn Sawan, but later moved to live in Bang Prahan in Ayuttaya. He became the apprentice of Luang Por Glan of Wat Prayat. After the passing of LP Glan, Ajarn Loi continued his practice of Magic with Luang Por Bpaen of Wat Sao Tong Mai in Ayuttaya.
Ajarn Loi learned many Wicha with Luang Por Bpaen of Wat Sao Tong Mai, who was well versed in Wicha Saiyasart, but Ajarn Loi himself was also Adept in Artisanry of the Chang Sip Moo Fine Arts level of prowess. He thus taught Ajarn Loi all of his Wicha, and methods of weaving the spellbound Hun Payont, Takrut and other amulets, and Ajarn Loi would make them in the finest fashion. Ajarn Loi was a fine artisan of the Chang Sip Moo group, and received Wicha from Luang Por Bpaen, Luang Por Glan, and other masters, but was the most Adept of all at weaving the Hun Payont Golems with his Artistic ability to make the effigies in all sorts of postures, and dress them with all kinds of regalia.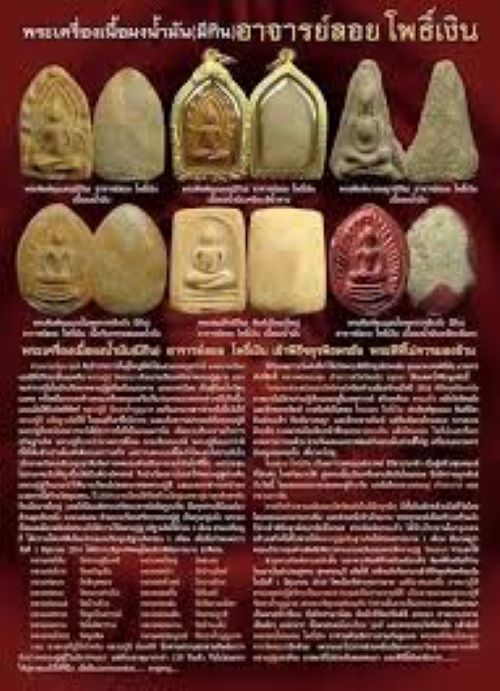 The Hun Payont comes from the word 'Payont' which means an effigy that has been brought to life by Sorcerous Magick. Hun Payont may be made in various forms, such as the form of a Human, or some other Magickal creature, or animal, depending on the needs of the user and intended uses of the Adept who makes them. Hun Payont are made from various substances, such as the Hun Hyaa Saan (Hay/Straw), Hun Gan Bai Mai San (leaves), Hun Thao Wan (magical vines), Hun Dtakua (mercurial lead), Hun Khee Pheung (wax), Bai Mai Ta (leaves), Hun Gae Salak (carved wood), Hun Daay (cord wrap), Hun Pha (cloth bound), Hun Din (molded claay), Hun Din Phao (baked clay), Hun Hin (carved stone), Hun Krabueang (ceramic), Hun Poon (cement), Hun Ngern/Tong (silver or gold), Hun Loha (Iron)
The Hun Payont, is an amulet that is found to date back to the times of the Kassapa Buddha. The Kassapa Buddha, is said to have made a Payont effigy, to protect his Relics, before he himself passed into Nibbana.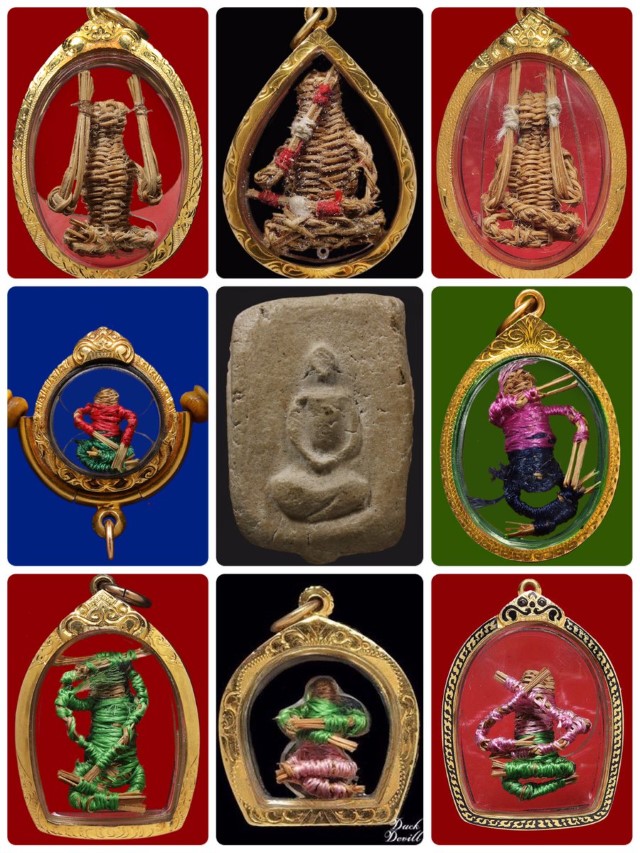 200 Years Later, King Asoka opened a shrine, to remove and preserve the relics, but the shrine was inhabited by a Hun Payont. King Asoka was forced to invoke and summon the God Indra, who manifested as a Brahman, and performed Incantations, enabling King Asoka to enter and remove the Saririkadhatu Relics.
In the world of Sorcery, all lineages believe in the existence of different kinds of spirits, which can be imbued within effigies or controlled, or beseeched to perform a multitude of tasks.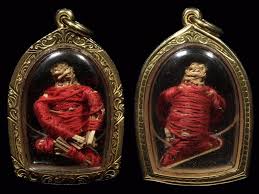 There are many Animist and Necromantic amulets which use different types of spirits which are Hoeng Prai Ghosts, Devas, Bhuta, Kumarn Tong, Rak Yom, In Jantr, Phu Some, In Gaew, Mae Takian, Ma Hoeng Prai, and many others such asYaksa Monsters, to inhabit an effigy.
Great Adepts are the only ones able to create Hun Payont Golem Effigies, which are then brought to life with Necromancy and imbued with any of a number of kinds of spirits.  All Hun Payont must be empowered by a Master who has Mastered the Wicha Akarn Sam Sip Sorng 32 invocationss of the 32 elements within a living being, to make the effigy able to displace itself (move around), and to emit magickal Miracles to protect wealth and possessions within its enclave. If intruders enter, the Hun Payont will create illusions that drive the thieves away, and will also scare away all kinds of demons and ghosts that enter the household to cause any havoc. Hun Payont are very protective of the belonging within the home and for this reason excellent guards.

Hun Payont differ from Kumarn Tong, in the sense that the Kroo Ba Ajarn would give life to the Hun Payont himself without necessity to call upon an existing spirit, whereas a Kumarn Tong is reanimated by calling a Bhuta, a Deva or Child Ghost to inhabit the effigy, to help humans, in exchange for an auspicious rebirth in the heavens after its lifetime within the Kumarn.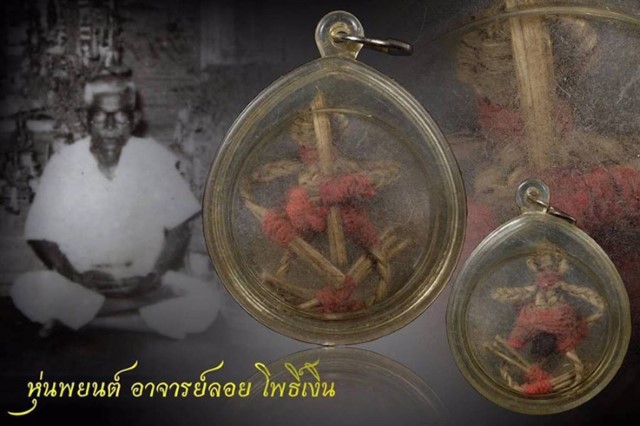 The Hun Payont is also renowned to be able to bring wealth and attract good business, and is open to being asked for favors and to perform missions, such as chasing away your enemies. It is also believed to possess Metta Mahaniyom 'Great Preference' Magick, which we know in English, as 'Mercy Charm', as it is reputed to attract the compassion and favor, of those who approach and interact with you.
According to the ancient tradition, a Hun Payont should be rewarded and appeased through the Gruad Nam water pouring ceremony when performing prayers and Bucha.
---