Presenting a rarely-seen Master-Class Amulet of the Great Luang Phu Hmun; the Muan Sarn Sacred Powders Variety, the Pra Sivali Ruay Tan Jai Pim See Liam Hlang Yant – Nuea Pong Puttakun Pasom Wan 2543 BE. Only about 3000 amulets were made in this series, which considering the popularity of Luang Phu Hmun's amulets and the passage of time since their release, means that almost all of them already reside with devotees who refuse to part with them.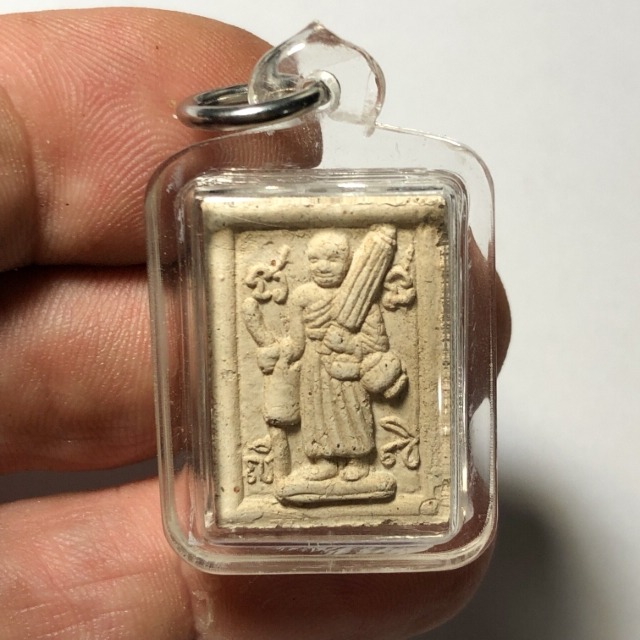 This is hence, a rare chance to admire the highly prized limited edition Pra Sivali Hlang Yant amulet. of LP Hmun Tidtasilo (Wat Ban Jan), in Nuea Pong Pasom Wan. This is a very perfectly well preserved exhibit, which was released during the famous 2543 BE 'Ruay Tan Jai' (Rich as Your Heart Desires) edition, at Wat Pha Nong Lom.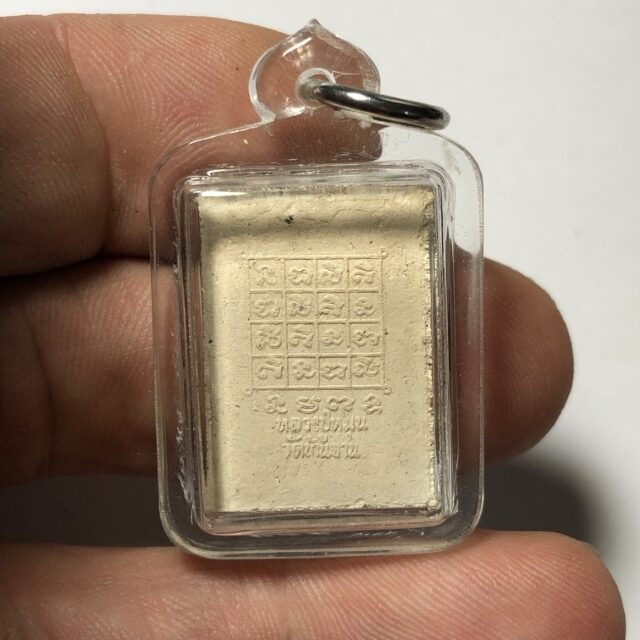 The front face of the amulet depicts Pra Sivali (also called 'Pra Chimplee' in Thai Buddhist Etymology), carrying a Glod Umbrella and Alms-Bowl, on Tudong, wandering through the forest.
The Rear Face of the amulet has a Sacred Yant embossed upon it, with the Sacred Kata Hua Jai Heart Mantra of Pra Sivali, in Ancient Khmer Sanskrit (Khom); 'NA CHAA LEE DTI'. Below the Yant, are the four elements invoked, with the syllables 'NA MA PA TA'
Luang Phu Hmun
was born in the year 2437 BE, and was ordained as a young boy aged 14 into the Sangha, as a Samanera Novice. He was later then ordained as a fully fledged Bhikkhu, when he came of age, in the year 2460 BE. He remained Ordained throughout his life.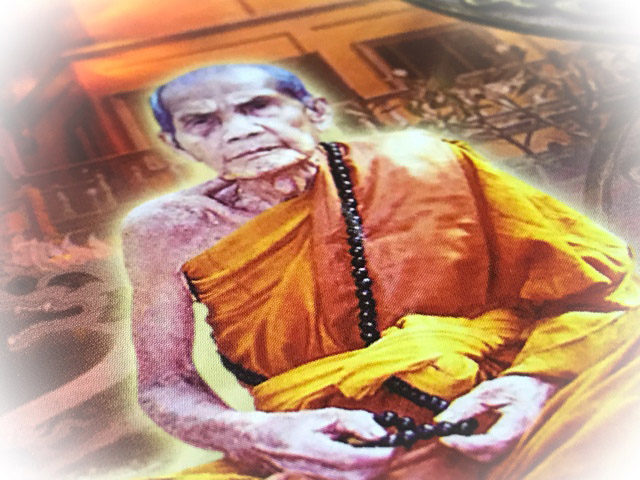 Luang Phu Hmun was a Maha Thaera Guru Monk of great age and who received Great reverence and Respect from the people of Tambon Ban Jan for his Diligence and Purity in practicing the Vinaya as a Buddhist Monk.
His predictions and instructions for ceremonial empowerment of amulets after his physical death, have been followed to the letter since his passing, for he gave special instructions to inform as to when and how he would return with his spiritual presence to empower amulets posthumously.
His Miracle Powers are Legendary, with so many stories of Miraculous events related to this Monk, who has seen the Reign of Five Kings in his Lifetime. For this reason he is known as the 'Pra Maha Thaera Ha Phaen Din' (Great Senior Master-Monk of 5 Kingdoms)
Luang Phu passed away. on the 11th March of the year 2546 BE, at the age of 109 Years old, after 87 years in the Sangha, serving Buddhism throughout almost his complete lifetime.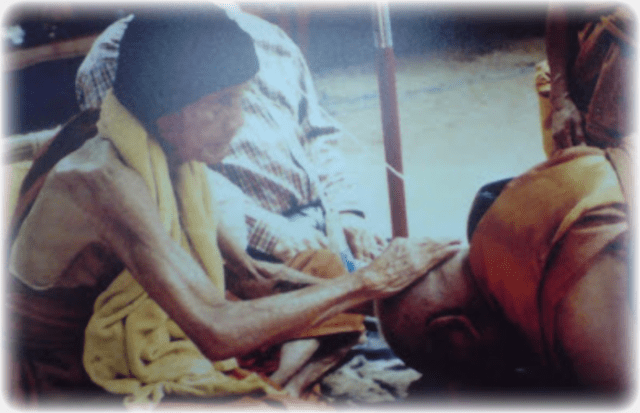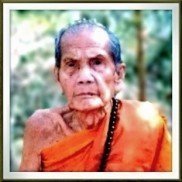 It is said, that just before the moment of his passing, LP Hmun was heard to recite these words;
"Whoever wears my amulets, and has an ethical life andf profession, will see their assets increase steadily, have luck and good fortunes in Busines. Gain fame and respect in the profession, and high likeability socially. The Devas will smile kindly upon you and protect you, and point the way forward to success and happiness.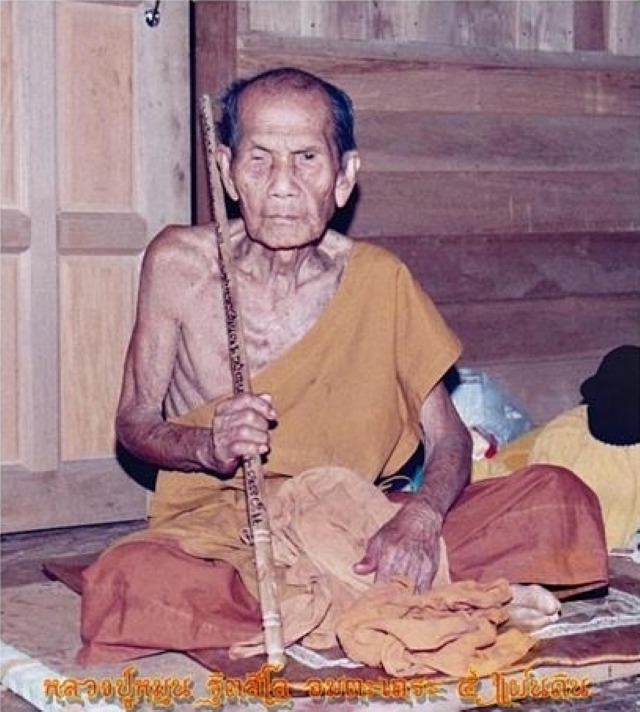 But these blessings will only come to those who do good, think good, and have good intention, and respect the Buddhist Precepts".
The word 'Hmun' means to turn and increase (revolve). Luang Phu Hmun always foretold that those who Bucha his amulets, would turn their luck and fortunes around, and increase their Business Success.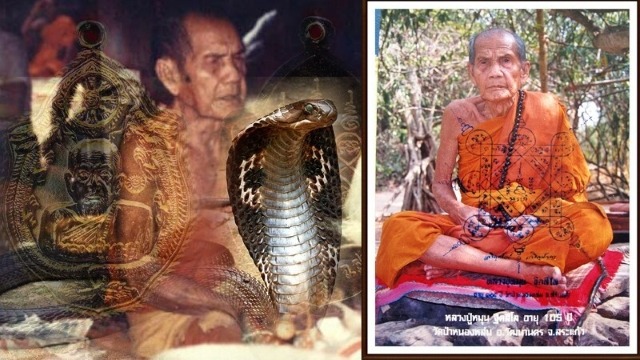 Luang Phu is known to have foretold. that those who Bucha his amulets will be protected from 'Dtaay Hoeng (premature deadly accidents), and that the Devas will Protect the wearer of his amulets.
Bucha to Luang Phu Hmun. should be performed on a Thursday, and should include offerings of;
16 Incense stick, 2 candles (lit), white flowers, or one puang malai garland.
Hmak Plū Betel-Areca Nut with chewing paste (5 or 16 portions).
A glass of sweet drink such as fizzy drinks,
One roasted catfish, some rice or sticky rice, or fermented rice, or even steamed rice pudding.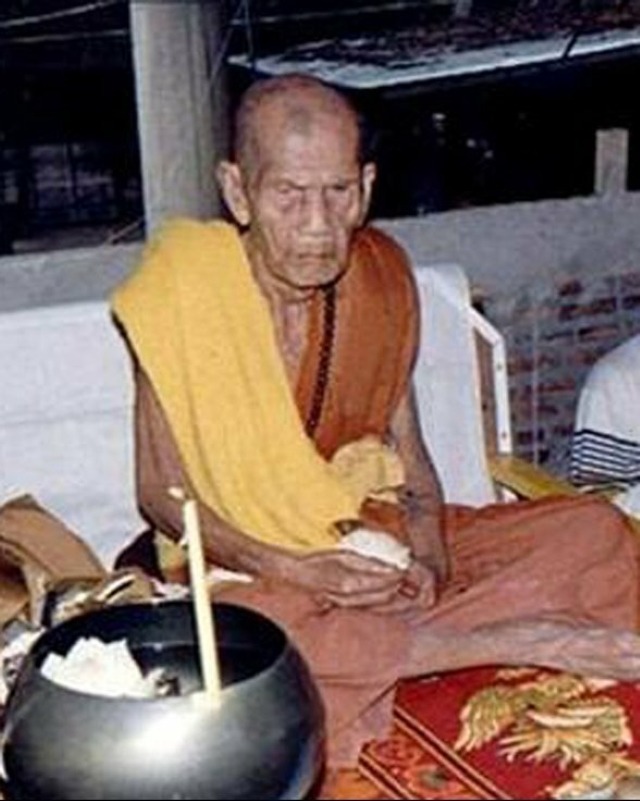 Kam Ārātanā Buchā Luang Phu Hmun Tidtasīlō
Namō Dtassa Pakawadtō Arahadtō Sammā Samputtassa
Namō Dtassa Pakawadtō Arahadtō Sammā Samputtassa
Namō Dtassa Pakawadtō Arahadtō Sammā Samputtassa
Luang Phu Hmun Tidtasīlō Ma A U Luang Phu Hmun Tidtasīlō U A Ma
Kata Bucha Luang Phu Hmun
Dtua Gū Lūk Pra Putta Ongk Krū Sit Tudong Ong Āj Mai Bpramāt Krū Pob Roi Gom Dū Jer Krū Grāb Hwai
---