This list of Buddhist Guru Master monks will auto-update each time we add a new Master. Click each link in the list to view the amulets and read about each Guru Monk

External Pages
---
Kumarn Tong Nuea Din Aathan Pasom Pong Prai Bad Nam Man Prai Tang Glom - Luang Por Te - Wat Sam Ngam
02723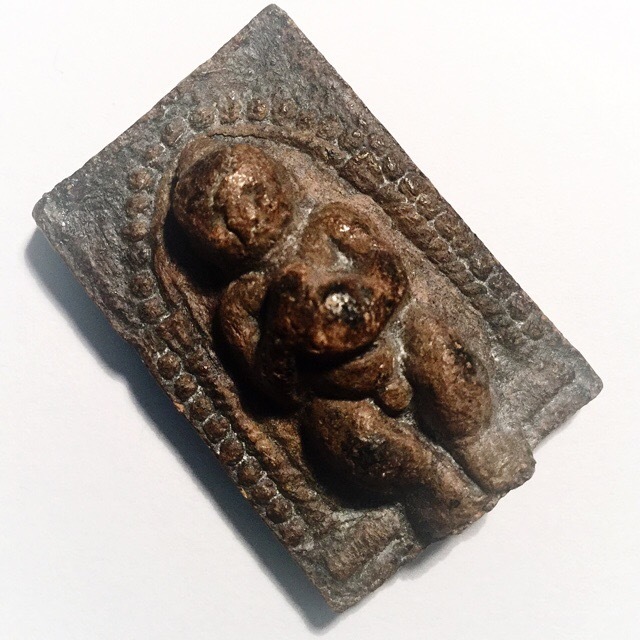 Kumarn Tong Nuea Din Aathan (Sorcerous Earths made from 7 Salt Licks, 7 Cemeteries, Khui Pu Crab Footprints, and Prai Powders, with Nam Man Prai Tang Glom Necromantic Oil sprayed on the surface of the amulet, from deceased Olden Days All-Time World Master of the Kumarn Tong, Luang Por Te, of Wat Sam Ngam.
One of the most classic Kumarn Tong Amulets of all time, the Kumarn Tong of Luang Por Te are classed as the original and authentic powerful Kumarn Tong of the last Century, and given top status above all others.
Luang Por Te, was the creator of the famous Kumarn Tong effigies which his apprentice now continues the lineage of at Wat sam Ngam. LP Te was an Immensely famous and able Gaeji Master Guru Monk whose equanimity and magic power is legendary around the world.
His Kumarn Tong statues and other amulets are worshipped by devotees from all continents on the planet, and the large number of people who claim to have had overturning success after making Bucha to his amulets is a further proof of the effectivity of his amulets and of his ability to empower them properly.
Wadtumongkol by LP Te;
LP Te would make amulets in various manners using different methods, mostly during the Second World War. Every single edition or type of amulet he made was the cause of miraculous events which have become legends that are still told of to this day.
He never really focused much on finding artists or developing any kind of fine Buddhist art out of the amulet design, rather focused entirely on the empowerment and gave little importance, or at least second place, to the elegance of design or features of his amulets.
He was intensely aiming for the highest concentration of Puttakun Power for people to have some portable form of protection to carry with them. Most of his amulets were made from 'Nuea Din Aathan' (magical earths and powders), which he had collected and mixed, namely earths from;
7 Salt Licks or Marshes, 7 cemeteries, crab earth balls, and other powerful pieces of the Earth goddess that have witnessed ir are inhabited by magical forces. On the rear face of all his amulets, his name is always embossed 'Luang Por Te'
The Dtugadtaa Tong;
LP Te's most famous creation of course is the Dtugadtaa Tong effigy (Kumarn Tong). He received the Wicha of making them from Luang Lung Daeng. He would sculpt them and bake them from clay made with magical earths, and distribute them to local devotees. So many people told stories of amazing improvements in income and household well-being after using his Dtagadtaa Tong that his story has become a Worldwide Phenomenon.
Luang Por Te passed away on the 25th December 2524 at the age of 80 years old, 6 months, 10 days. It was his 59th year of Ordination as a Bhikkhu. His remains are currently held on display for his Devotees to worship at the temple of Wat Sam Ngam.
Kata to call the Kumarn Tong (Kata Riak Gumarn Tong)
Aehi Kumaaro Aehi Kumaaree Aehi Rak Yom Aehi Prai Tong Bpiyang Ma Ma
Bpudt-Dtang Wasaayadti Aaragkhaana Bpajjayo
Rao Rak Yom Kumarn Tong Jong Maa Aehi Ma Ma
(Can be used for Rak Yom, Kumarn Tong, Prai Faed, Prai Tong)
Alternative Version;
Om Paniji Jaeruni Pantang Aehi Ma Ma
When you go places or enter and leave buildings you should speak to the Kumarn in your heart to accompany you
When you eat you should speak in your heart that the Kumarn should come to eat with you. Make a separate offering do not give from your own plate.
The Kumarn will call friends. customers and riches to you, lovers and admirers, and will chase away enemies and protect you and your household and family.
When bringing the Kumarn into the home for the first time, you should tell the Kumarn that the people in the house are friends and that the Kumarn should accept and look after them too.
Kata for empowerment of Kumarn Tong
Aehi Gumaarang Udti Uni Na Ang Idti Putto
Kata for calling the Kumarn to eat
Jadturapuudtaanang Ahang Waayang Ammahaara Kumaarang Kumarn Tong Maa Rap Pochanaa Aakajchaahi Dtiwadtabpo Aakajchaaya Maa Look Maa (Luang Por Jong, Wat Na Tang Nork, Ayuttaya).
Kata Pluk Kumarn Tong
Na Ma Pa Ta Gumaara Phuudti Bpadti Ruu Bpang Naama Dtae Laapo Namo Hoemi (Chant 3 Times to Awaken the Kumarn)
Kata Perm Rit Kumarn Tong (Charge up Power)
Dtaadta Paya Bpudt-Dta Aehi Jidt-Dtang Bpiyang Ma Ma
Kata Atithaan Kumarn Tong (Ask for Wishes to be Granted)
(Maha Namasakara x 3 first)
Ja Pa Ga Sa Jid-Dta Mahaa Jidt-Dtang Bpiyang Ma Ma

Kata Gamgab Kumarn Tong (To Command the Kumarn on a Mission)
Gumaarang Bpadt Sandtang Plaay Yanaa Mahaa Su Wi Sae Tha Itti Rit Mutu Dtaanang Sud Suu Sang Mahaa Chanaa Dti
Kata Adtithaan Khor Lap
(Use to make wishes and ask for Lucky Blessings, or to win the Hearts of Others).
Aehi Jidt-Dtang Jidt-Dta Pantang Pakinimae Jidt-Dtang Pantang Bpiyang Ma Ma
(hold the amulet between palms and in praying position between the eyebrows, chant three times and blow onto the amulet, making your wish).
Kata Kumarn Tong Prai Faed (Kumarn Tong Twins M/F)
Om Kumaaro Kumaarang Kumaarii Kumarn Tong Phlaeng Rit Hai Choke Hai Laap Kaa Khaay Gam Rai Dii Ma – A -U Om Kumarii Kumarn Tong Jong Phlaeng Rit Maa Chuay Dua Therd Aehi Jidt-Dtang Bpiyang Ma Ma Maa Ma Maa Maa Aehi Aehi Om Na Mo Put Taa Ya Ja Pa Ga Sa Ma – A – U Na Ma Pa Ta
Temple:Wat Sam Ngam
Maker of Amulet:Luang Por Te
Weight:10 Grams
Recommended Uses:Gambling, Protection, Send on Missions, Lottery, Business, Mercy Charm, House Guardian, Prosperity
Size of Amulet:3 x 2 Cm
Encasement Options
Solid Gold Custom Casing (Waterproo​​f) - We will email you with a price quote according to current Gold Prices, and Invoice You after Agreement. (0) Waterproof Casing (9) Without Casing (0)