This list of Buddhist Guru Master monks will auto-update each time we add a new Master. Click each link in the list to view the amulets and read about each Guru Monk

External Pages
---
Pha Yant Tee Raleuk Yay Pra Kroo Sachugij Gosol 2511 BE Luang Por An Wat Prayat
03427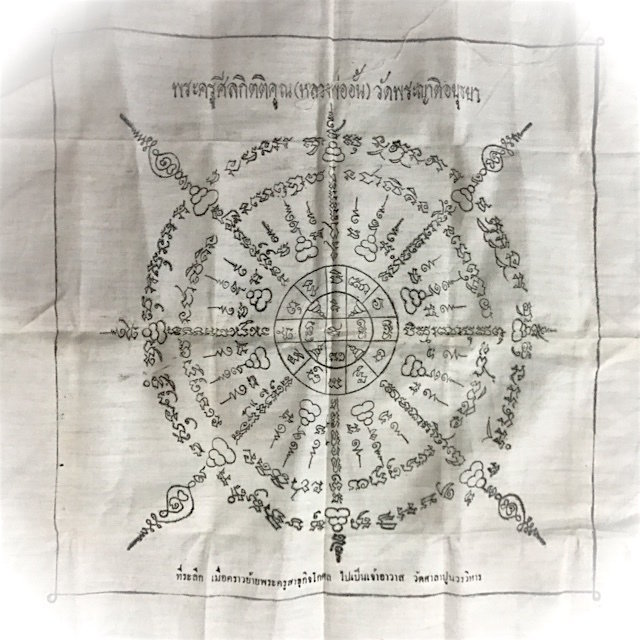 A very rare memorial edition Yantra Cloth from the Great Luang Por An of Wat Prayat, which was released in the year 2511 BE as a memorial of the occasion where Pra Kroo Sachugij Gosol was elected to become the Abbot of Wat Sala Poon, and this Pha Yant was blessed by Luang Por An and released for the ceremony to receive and elect the new Abbot of Wat Sala Poon (who was later succeeded by the great Luang Por Sawad). The Pha Yant is a composition of the Yant Maha Mongkol Paed Tidt with eight Ongk Pra Buddhas surrounding the Yant Maha Mongkol containing incantations of the Itipiso Hong Dton inscribed around the yantra, with a further eight Ongk Pra Buddha images on the outer rim, making this also a Yant Pra Putta Jaon Sip Hok Pra Ongk (16 Buddha Yantra).
The Pha Yant is extremely rare, as it was a special version released in limited numbers and apart from the main edition, blessed by Luang Por An at Wat Prayat. The Pha Yant was given to Wat Sala Poon to distribute to commemorate the occasion and to be released in celebration of a new abbot of the temple. The Pha Yant is for auspicious blessings and protection in all eight directions of the Universe, with a seven layered crystal wall of Buddhas, Bodhisattvas, Deities, Dakinis and Savaka to envelop the wearer or the household it resides in within its protective and auspicious blessing attracting aura.
Luang Por An was born in the year 2435 BE, and ordained into the Sangha at Wat Prayatigaram on the 26th May 2456 BE, with the Great Luang Por Glan Tammachoti as his Ordaining Upachaya,Luang Por Chaay (Wat Dtong Pbu) as his Gammawajajarn prompting officer. The name of his Anusawanajarn witness is no longer recorded, but most devotees assume it to be Pra Ajarn Rod Widtuyo of Wat Ayotaya (also called Wat Gasankh), or a few historians believe his Anusawanajarn witness to have been Luang Por Lueang, of Wat Pradoo Song Tam. In the year 247ึ7 BE, Luang Por Glan passed away and Luang Por An became the next abbot of Wat Prayat.
The Great Luang Por An passed away in 2512 BE as he was on travels visiting Wat Pra Singh in Chiang Mai, for a Buddha Abhiseka Blessing. His body was kept for devotees to worship at Wat Prayat for 25 years before he was cremated in the year 2536 BE. Most devotees of Wat Prayat will collect and Bucha amulets from both Luang Por An, and his Kroo Ba Ajarn Luang Por Glan (hard to find), for the magic of both Masters is seen to be second to none for Klaew Klaad Kong Grapan Chadtri Metta Maha Niyom power. Luang Por Glan was the abbot of Wat Prayatigaram, in Ayuttaya, and the Kroo Ba Ajarn of the Great Luang Por An, who succeeded Luang Por Glan as abbot of Wat Prayat after his passing.
In turn, Luang Por An was also a Great Master of Olden Days, whose amulets were immensely famous during the Wartime Era, for their Kong Grapan Chadtri Klaew Klaad power. Luang Por An inherited and learned most of his Wicha from Luang Por Glan, who was one of the top ten Masters with the most powerful psychic powers of his Era. Luang Por An was highly renowned for his amulets, especially his Takrut, Pra Khun Phaen, Pra Pruhnang, and his Pra Suriya Muni amulets, and Pha Yant, as well as his Rian Kanajarn Monk Coins.
Temple:Wat Prayat for Wat Sala Poon
Maker of Amulet:Luang Por An
Weight:11 Grams
Recommended Uses:Prosperity, Auspicious Blessings, Protection
Number of Amulets Made:Unknown
Size of Amulet:30 x 30 Cm