This list of Buddhist Guru Master monks will auto-update each time we add a new Master. Click each link in the list to view the amulets and read about each Guru Monk

External Pages
---
Pra Kru Wat Geng Jeen Nuea Chin Pim Pra Pratan Porn Sacred Leaden Ancient Hiding Place Amulet Late Ayuttaya Period
03462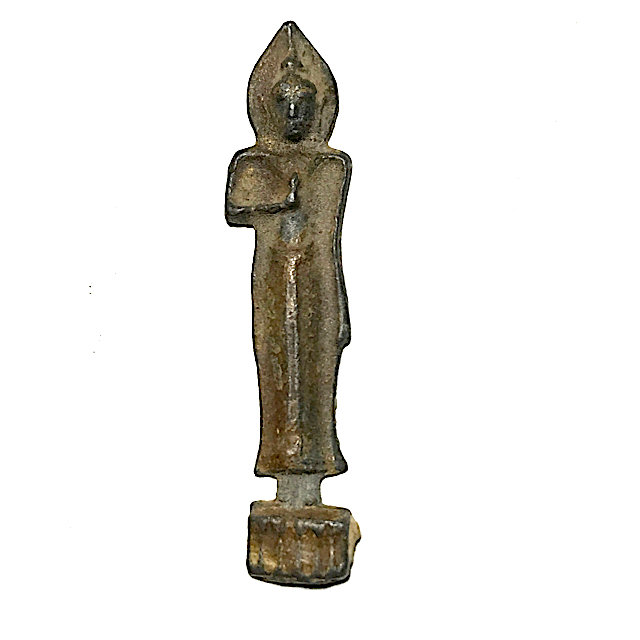 A preferred Pim Niyom model of the Pra Kru Wat Geng Jeen Cast Leaden hiding place amulet find, over 200 years old, from the Ayuttaya Period, this model being the Pim Pra Prtan Porn (Buddha bestowing blessings)
This pim features the Buddha standing with one haind raised in the Mudra (hand gesture) of bestowing blessings on devotees, woth the other arm reclined downwards to the side. The term 'Pratan Porn, in truth means 'supreme superb things' meaning that the blessings given are the supreme blessings, such as Pañña (True Spiritual Wisdom through Illuminated Understanding of the Dhamma)).
But when we use the word 'Pratan Porn' in relation to the Buddha himsel bestowing blessings, the meaning is deeper, meaning 'giving what people ask for'. In the time of the Buddha when he was still living, he would bestow three kinds of blessings above all others when asked for them;
1. Ananda Savaka (Pra Anont) asked to be the Buddha's first assistant; The Buddha conceded to this wish and bestowed permission to be his 'right hand man)
2. Jivaka Rishi (the Buddha's Physician) asked for clothing iinstead of a robe to wear, and the Buddha gave permission for this.
3. Nang Wisakha (female devotee) sent her assistant Nang Tasi to the temple of the Buddha to invite Bhikkhus (monks) to come and receive alms at her home, but Nang Tasi, when she arrived at the temple, the monks were washing their robes and not wearing the saffron robes, so she thought there were no monks, only laymen washing themselves, and went back to Nang Wisakha's home without inviting the monks.
But Nang Wisakha was very intelligent, so she went to beseech 8 things from the Buddha within this third single request;
1. Permission to donate special saffron colour cloths for the monks to cover themself with when washing their robes, so they would still be recognisable as monks when washing their robes (in those days monks only had one robe and would have to go naked when washing the single robe they possessed)
2. Permission to donate food to Anantukas (visitors from afar, be they monks or not), because they may be lost on their travels and be hungry, not knowing their way)
3. Permission to 'Patta' - meaning to donate travel necessities to monks who were going out to travel (Tudong) outside of mealtimes, so they would have food or other necessities during time on travels, according to the rules of the Buddhist canon, in case they found themself far from villages where they could beg for alms
4. Permission to donate Kilanapat to sick Bhikkhus (monks) - this means permission to donate illness preventing herbs and supplements to Monks to prevent illnesses.
5. Permission to donate 'Patta' to sick Bhikkhus (monks) - this means permission to donate food to Monks who were ill, and unable to go out on alms rounds, so they would not starve.
6. Permission to donate Kilana Pesach (Healing Medicines) to Sick Monks, to heal their ailments and sicknesses.
7. Permission to donate Yakul (health preserving antibiotic dairy product (Like betagen in modern times)
8. Permission to donate cloth to cover themselves when bathing, so they do not offend any devotees who may approach and see them naked.
The Buddha conceded to all eight requests. But as Buddhists, we see the Pang Pratan Porn Buddha as the posture of bestowing auspicious blessings and fulfilling wishes, so one could say the posture is that of wish fulfilment, when praying to this Buddha.
The Pra Kru Wat Geng Jeen amulet find occurred around the year 2515 BE, at the abandoned temple of Wat Geng Jeen, in Rayong, when a large batch of leaden amulets were discovered at the temple. The amulets were created towards the end of the Ayuttaya period, just before the Ratanakosin Era. The amulets were created by Pra Ajarn Geng, who was then the abbot of Wat Geng Jeen. The amulets were found in many different designs and images, numbering over 70 different Pim in all. Some are very common to find still, and others are much rarer. It is said that the Pra pratan Porn Wat Geng Jeen amulet received blessings from the Great Luang Phu Sangkh Tao (Kroo Ba Ajarn of Luang Phu Tim), and by Luang Phu Tim Issarigo of Wat Laharn Rai after their discovery.
The Kru Wat Geng Jeen amulets are known for their 'Sanim Daeng' reddish beige rust forming as 'Kraap Kru on the front, and that most of them were originally coated in gold leaf in manu cases. The rear faces of the amulets often have a fine layer of white cement from the Kru chamber adhering to the surface, which is one of the criteria used for recognising this particula Pra Kru, for they all have some to greater or lesser degree on the rear face. Some examples of course were cleaned by the devotees who wore them to increase visibility and make them more attractive for wearing, but the sanim daeng and texture of the sacred leaden chanual alloy remains visibly recognisable even in those exhibits which were cleaned from Kraap Kru.
The rarer and more highly sought after models include the Pim Mara Wichai Thaan Pha Tip, the Pim Samati Thaan Song Chan, the Pim Mokkhallana or Saributra (Pim Sawok - praying monk listening to the Buddha - can be seen as either Maugalyayana Arahant, or Sariputra Arahant), and the various models of which only few were found, and are extremely rare, such as the Pra Sangkajjai, Prajam Wan Birthday Buddhas, Pim Pra Nakprok, and the Pim Pra Pratan Thaan Tip.
Pra Ajarn Geng, the maker of the amulets back in the late Ayuttaya period, was a famous Kammathana Master Monk of his time. It is believed by experts that Pra Ajarn Geng, the maker of the Pra Kru Wat Geng Jin amulets, was the original Kroo Ba Ajarn who bestowed his magical Wicha onto some of the Great Masters of Olden days we know, such as Luang Por Dto of Wat Khao Bor Tong, Luang Por Am, of Wat Nong Grabork, the Great Luang Phu Tim of Wat Laharn Rai, and Luang Por Tarb of Wat Nong Grabok Kheun Pheung.
Below; One of the other preferred models of the Kru Wat Geng Jeen; the Pim Thaan Pha Tip
Pra Pang Pratan Porn
---
Use the Traditional Thai Buddhist Method for Bucha;

1. Chant Maha Namasakara (3 Times)
2. Chant the Trai Soranakom (3 Times)
3. Chant Kata Aaraatanaa Pra Krueang (3 Times)
Kata Maha Namasakara
Namo Dtat-Sa Pakawa-Dto Araha-Dto Sam-Maa Sam-Put-Dtat-Sa
Namo Dtat-Sa Pakawa-Dto Araha-Dto Sam-Maa Sam-Put-Dtat-Sa
Namo Dtat-Sa Pakawa-Dto Araha-Dto Sam-Maa Sam-Put-Dtat-Sa
Trai Soranakom
Puttang Cheewidtang Yaawa Nipaanang Saranang Kajchaami

Tammang Cheewidtang Yaawa Nipaanang Saranang Kajchaami
Sangkang Cheewidtang Yaawa Nipaanang Saranang Kajchaami
Tudtiyambpi Puttang Cheewidtang Yaawa Nipaanang Saranang Kajchaami
Tudtiyambpi Tammang Cheewidtang Yaawa Nipaanang Saranang Kajchaami
Tudtiyambpi Sangkang Cheewidtang Yaawa Nipaanang Saranang Kajchaami
Dtadtiyambpi Puttang Cheewidtang Yaawa Nipaanang Saranang Kajchaami
Dtadtiyambpi Tammang Cheewidtang Yaawa Nipaanang Saranang Kajchaami
Dtadtiyambpi Sangkang Cheewidtang Yaawa Nipaanang Saranang Kajchaami
Kata Aaraatana Pra Krueang
Puttang Aaraatanaanang
Tammang Aaraatanaanang
Sangkang Aaraatanaanang
Puttang Prasittimae
Tammang Prasittimae
Sangkang Prasittimae
Temple:Wat geng Jeen
Year of Issue:
200 Years old - Made during the Ayuttaya Period, Discovered in 2515 BE
Maker of Amulet:Pra Ajarn Geng
Weight:7.5 Grams
Recommended Uses:Serm Duang, Metta Maha Niyom, Maha Lap, Klaew Klaad, Maha Pokasap
Size of Amulet:4.8 x 1 Cm
Encasement Options
Solid Gold Custom Casing - We will email you with a price quote according to current Gold Prices, and Invoice You after Agreement (0) Waterproof Casing (9) None (0)